Disorder In The Court! MMA Fighter Laughs When Porn Star Ex-Galpal Testifies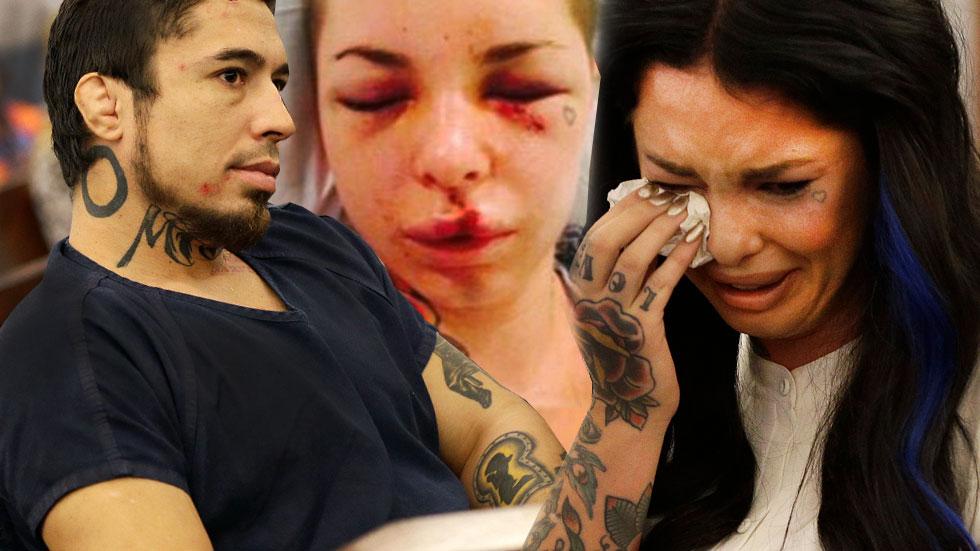 In a stomach turning court shocker, mixed martial arts fighter Jonathan Koppenhaver started laughing in court when his ex-girlfriend testified about her devastating injuries he allegedly caused.
The MMA star known as War Machine was admonished by the judge after he smirked when porn star Christy Mack described the brutal alleged attack at her Las Vegas home in August which left her with 18 broken bones, a broken nose, missing teeth, a fractured rib and a ruptured liver.
Article continues below advertisement
When a prosecutor asked about the assault, "Was there sexual violence?' " and Mack, 23, confirmed, "yes," Koppenhaver, 33, started laughing, KLAS-TV reported.
The prosecution asked that court records note him "laughing and shaking his head." When Koppenhaver's lawyer objected, the judge at the Clark County District Court in Las Vegas said, "I watched him laugh."
At the hearing, the judge also added two felony charges to the case against Koppenhaver, including one alleging he raped Christy Mack one more time than previously alleged.
As RadarOnline.com previously reported, Mack claimed that her ex-boyfriend walked in on her and an unnamed man while they were both clothed on Aug. 8. The MMA fighter then allegedly began to attack.
"Without a single word spoken, he began beating my friend; once he was finished, he sent my friend away and turned his attention to me," Mack said. "He made me undress and shower in front of him, then dragged me out and beat my face."
The MMA fighter pleaded not guilty to 32 charges in connection with the beating, as RadarOnline.com has reported. Of those 32 charges, two of them are counts of attempted murder. Other charges include battery, kidnapping, coercion and sexual assault.
However, Koppenhaver has accused Mack of lying with "B.S. fantasy charges," in a note written from prison.