First Pic After Sentencing Day: Teresa and Joe Giudice Film 'Watch What Happens Live' Interview! Plus: She Cancels Public Appearance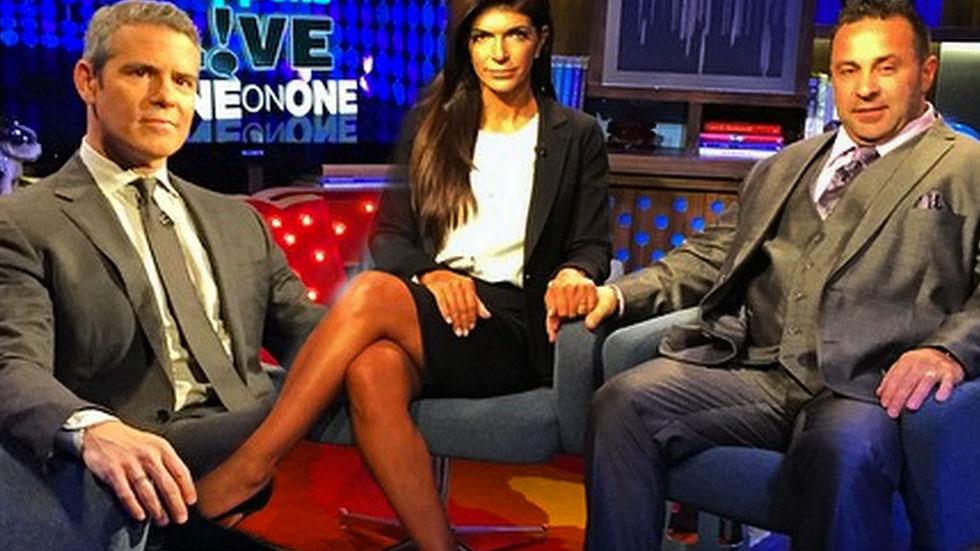 In their first public appearance since being sentenced to prison, Teresa and Joe Giudice filmed an interview with Andy Cohen for a special episode of Watch What Happens Live to air Monday night.
The infamous couple filmed the Bravo show just one day after a judge handed down prison sentences for The Real Housewives of New Jersey stars.
Cohen posted a somber pic on Instagram with the pair captioned, "Just spent a few hours interviewing Teresa & Joe Guidice. See it Monday night on Bravo."
MORE ON:
Watch What Happens Live
Article continues below advertisement
On Saturday, Teresa broke her silence on Twitter to tell fans she had cancelled a public appearance for Oct. 8. She had been scheduled to sign bottles of her cocktail line Fabellini and take photos with fans at Bibi'z Restaurant and Lounge in Westwood, N.J. She wrote, "Hi, I just want to be clear there will be no Fabellini appearance this week. Stay Tune for further appearance announcements."
On Thursday, Teresa was sentenced to 15 months in prison and Joe was sentenced to 41 months behind bars. He was also sentenced to twelve months on additional charges but will serve concurrently. He'll then serve two years probation and will pay $10,000 in fines and restitution of $414,588.90 to the US Treasury.