Teresa Giudice Throws A Fit At Bravo Taping, Refuses To Share The Stage With Her Cousins Kathy Wakile And Rosie Pierri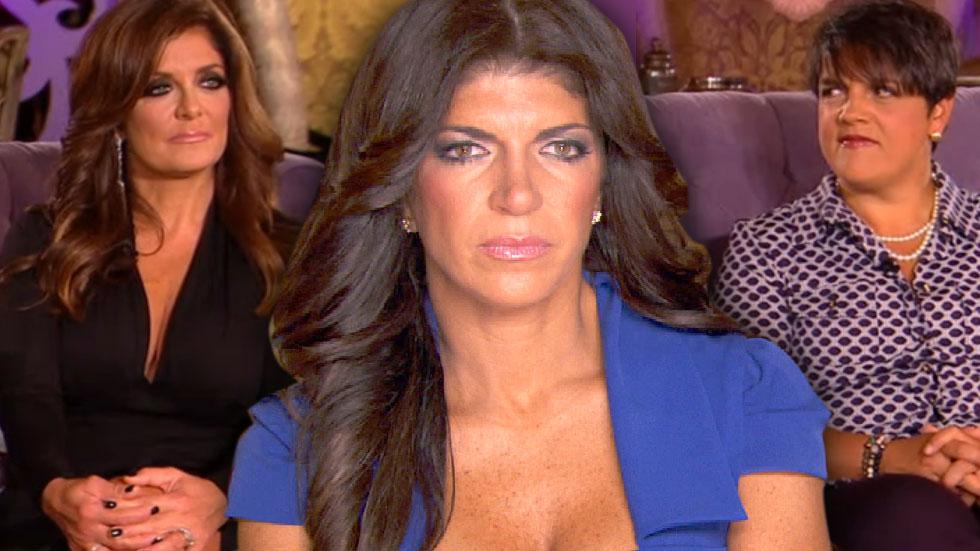 So much for family.
Teresa Giudice created a stink when her cousins Kathy Wakile and her sister Rosie Pierri entered the room during the recent Real Housewives of New Jersey reunion, a source tells RadarOnline.com exclusively.
"When Kathy was on, Teresa made a huge scene and stormed off the stage," reveals the source.
But the 42-year-old reality star didn't stop there. "After Teresa left, she made Bravo production cut Kathy and Rosie's segment down to ten minutes," snipes the source, noting the two sisters were originally meant to have a lot more airtime. "Teresa pitched a fit, screaming that she would not return to the couch if Kathy and Rosie were present."
Article continues below advertisement
Bravo accommodated Giudice's demands "since the network does not want to lose any time with Teresa while they still have her before she goes away to prison."
True to her word, Giudice returned to the set once Wakile and Pierri left.
Giudice has had issues with Wakile for a long time. "Let's face it: When Kathy said, 'Your father's a coward and your mother's a liar,' you don't forget that," a source told Radar last year.
It turns out that Manzo and Giudice serving up so much drama may be a good thing. The source claims that besides the two blowups the reunion was "uninteresting and anti-climactic."