Kris Jenner Went 'Ballistic' Over Kim Kardashian Going Topless In Kanye West Video: Report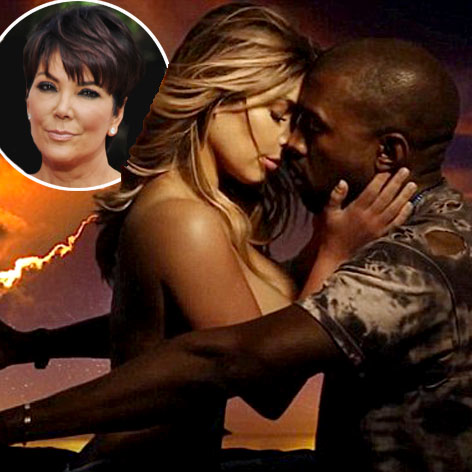 Kris Jenner went "ballistic" when she first saw daughter Kim Kardashian topless in Kanye West's new video, Britain's Heat magazine is reporting.
The Bound 2 video features West and Kardashian facing each other astride his motorcycle, sometimes simulating sex while he raps.
Kardashian is topless in the much-maligned video -- brilliantly spoofed, shot for shot, by James Franco and Seth Rogen -- but that's not what reportedly has her momager upset.
Article continues below advertisement
"Kris went ballistic, telling her daughter this is worse than the 2007 leaked sex tape that Kim made with her ex-boyfriend Ray J, because that was meant to stay private while this was meant to go public," a source told the magazine. "She's saying that Kim's destroyed all her credibility."
There's no full frontal nudity but Kim does show off lots of side boob and cleavage in the vid.
The magazine also quotes the source as saying Jenner thinks the video is "degrading" to Kim.
Should Kim be embarrassed by her appearance in Kanye's video? Tell us what you think in comments.
youtube=https://www.youtube.com/watch?v=BBAtAM7vtgc&w=560&h=315