Exclusive
Reason To Be 'Scared'? Prison Handbook Reveals What Teresa Giudice Should Expect At 'Camp Cupcake' Prison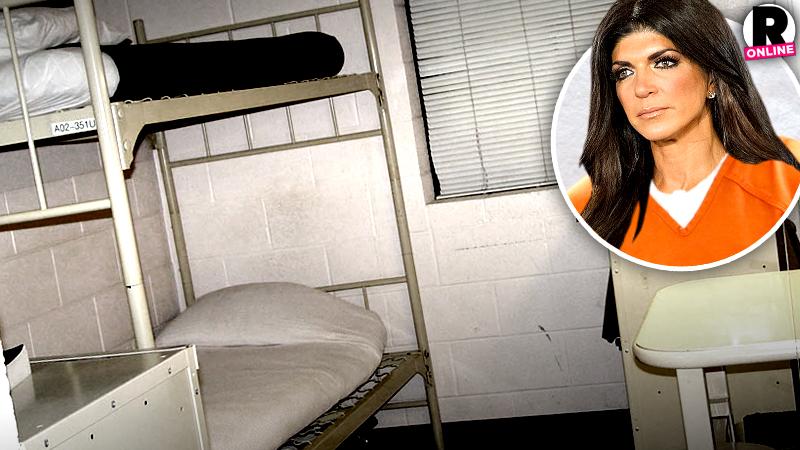 Teresa Giudice has admitted she's "very scared" to be heading to prison in January. But RadarOnline.com has learned that since she's likely headed to Alderson Federal Prison in West Virginia, she doesn't have much to fear! At the cushy facility known as "Camp Cupcake," she'll enjoy an array of amenities to make her prison stay more comfortable, and RadarOnline.com has all the details.
According to the Alderson Federal Prison Inmate Handbook obtained by RadarOnline.com, Giudice will reside in the "A" building and participate in the admission and orientation program during the first two weeks of her 15-month stay.
Article continues below advertisement
"The admission and orientation program consists of lectures and group meetings to learn about regulations, programs and activities. You will also receive a thorough physical examination and complete educational and psychological tests. You will not be given a work assignment until cleared by Health Service Unit Staff. You are expected to complete housing unit assignments under the director of the Correctional Officer," the handbook states.
Set on 159 acres overlooking the Greenbrier River, "Alderson is known as Camp Cupcake!" a source told RadarOnline.com.
The Real Housewives of New Jersey star will be allowed to shower daily, until 11 pm, and her living unit will consist of a bed and microwave oven. Surely a bonus for the fabulicious reality star, each cell comes with a hair dryer and curling iron!
But forget the couture wardrobe. Prison-issued khakis are to be worn at all times, and wearing a bra is required until bedtime. Eight pairs of underwear, and two sets of khakis will be issued, along with a pair of shoes. Designer goods like the $2,000 Valentino bag she carried in a recent RHONJ episode will be in short supply.
MORE ON:
Celebrity Justice
Article continues below advertisement
Physical contact between inmates is"strictly prohibited including hand-holding, embracing, kissing, the placement of arms around shoulders or waist, or other forms of physical contact. Occasionally a brief embrace of friendship may be appropriate such as in case of a farewell to in inmate being released...failure to abide by these rules could result in disciplinary action," the handbook states.
Luckily for bronzed reality star, she won't have to forego her tan because she will be able to sunbathe during weekdays, after 4 pm, but she won't be sporting a bikini. "The attire worn during sunbathing will not be altered in anyway and must fit appropriately," the handbook dictates. "The shorts must extend to mid-thigh and completely cover the buttocks area. The tee shirt may be rolled up to expose the lower back and stomach area only. Under garments must be worn at all times and may not be exposed."
When the crooked reality star isn't busy sunbathing, she will also be able to participate in positive mental attitude classes, self-relaxation classes, aerobics, yoga, progressive mediation and anger management classes.
She will be required to work a job detail for the first sixty days in either food service or landscape, but after that may choose to enroll in apprentice shop program in cooking, plumbing, teaching assistant or electrician, and will be paid .40 per hour.
No interviews with the media will be permitted unless the warden approves it. Sorry Andy Cohen!
"Teresa was given the manual by one her attorney's and promptly tossed it in the garbage," a source tells RadarOnline.com. "She is still in denial about going to prison."