Divorce #2 At Just 22? 'Teen Mom 2' Star Leah Messer's Husband Jeremy Calvert Accuses Her Of Cheating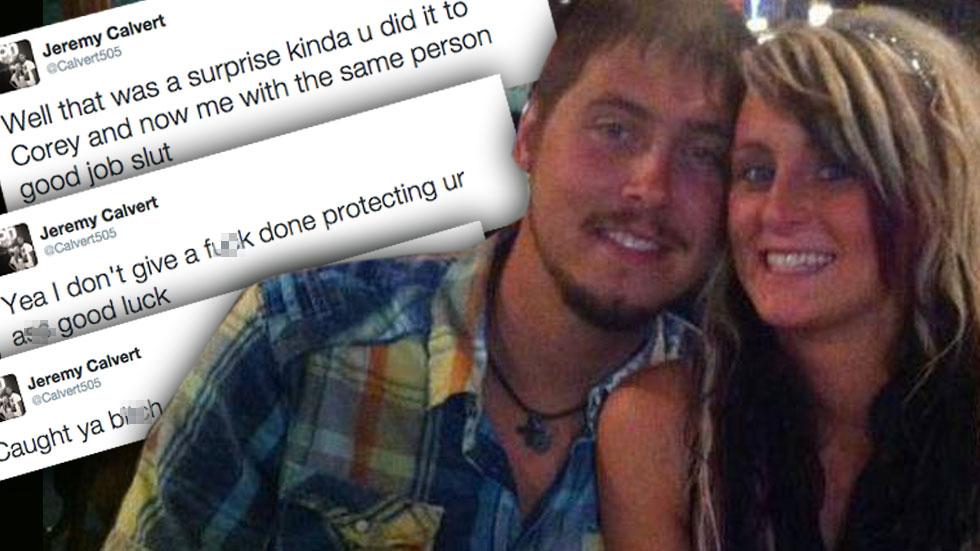 Leah Messer recently shut down rumors of troubles in her marriage to Jeremy Calvert — but there's no denying this drama.
The 22-year-old mother of three's husband blasted her on Twitter early this morning, calling her a "slut" and accusing her of cheating.
"Well that was a surprise kinda u did it to Corey and now me with the same person good job slut," the pipeline engineer, 25, wrote.
Messer infamously admitted to cheating on ex-husband Corey Simms with her former boyfriend, Robbie Kidd, just a week before their October 2010 wedding. (They split up just six months later.)
Article continues below advertisement
"Yeah I don't give a fuck done protecting ur a** good luck," Calvert continued. "Caught ya b*tch."
He then called out Kidd personally for the alleged infidelity.
"Go back to Mingo and have a wonderful f*cking weekend with Mr Kidd," he fumed, referring to Mingo County in their native West Virginia.
Calvert has since deleted the tweets.
This year hasn't been the greatest for Messer: She is currently involved in a vicious legal battle with Simms over custody of their 4-year-old twins, Ali and Aleeah, and she recently confessed to feeling like a "druggie" after taking pills for her anxiety.
Messer has yet to respond to her husband's accusations.