Exclusive
Countdown To Prison! Bravo Rushing 'RHONJ' Back Into Production In Three Weeks To Exploit Giudice Drama Before Teresa Goes To Jail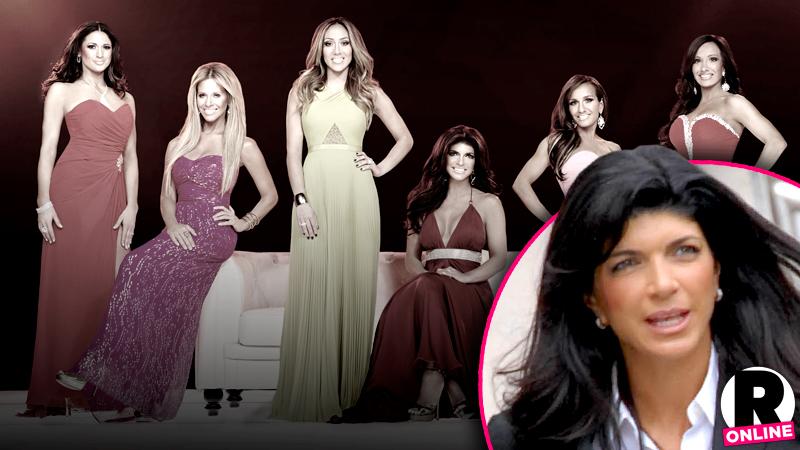 Bravo is determined to exploit the drama of Teresa and Joe Giudice being sentenced to prison by ramping up production of the new season of the Real Housewives of New Jersey early, a source exclusively told RadarOnline.com.
In fact, "Bravo is set to begin filming in approximately three weeks," the source said. "The producers want to make sure they capture all of the footage with Teresa and her family that they can before Teresa heads off to prison."And the network also wants all the other ladies back as well!
Article continues below advertisement
"They've already made offers to all the housewives to come back asap," the source noted. "While Teresa is a given, as Bravo wants to film her as long as they can, execs also want all the housewives to get explosively emotional about the Giudice prison time on camera."As RadarOnline.com has previously reported, Teresa, 42, was sentenced to 15 months in prison and her husband, also 42, was sentenced to 41. Joe also faces a likely deportation following his sentence, as he is not an American citizen. The couple has four daughters.
According to the source, "The network was set to film the girls immediately following the sentencing, as Bravo wanted to get their reactions, however, once the judge announced that Teresa would not have to report to prison until January 5th, Bravo execs changed their tune," the source claimed. Rather than simply get Giudice daughters' reactions and waste time while Teresa spends time with her family, Bravo wants to capitalize on the last few months they have left with the scandalous reality star and mix things up with her and the rest of the housewives, the source told RadarOnline.com.
Article continues below advertisement
"While three months may not be a lot of time, Bravo will be sure to capture as much usable footage as they can, and can always film Joe single-parenting the girls if they need extra footage."
According to the source, while all the housewives are being asked back, a feud amongst the women complicates matters about who will be full time.
"Bravo has made it clear that they're interested in Jacqueline Laurita as a full time housewife in addition to Dina Manzo. However, Dina has made it clear she does not want to work with Jacqueline," the source said.
As RadarOnline.com has reported, Manzo has tried to control the drama on and off the set, and has made it clear to cast members this season that she didn't want them filming with her.
If Bravo is interested in both Laurita and Manzo, the source said, "One thing they are mulling over is possibly splitting time between Dina and Jacqueline by filming Dina for half a season, likely the half Teresa would still be around for—and then filming Jacqueline for the other half, once Teresa goes away."
The source added that Bravo was still wavering about what to do with housewives Melissa Gorga and Kathy Wakile "as Melissa's storyline was weak this season and, while Kathy was only at friend status, episodes she was on seemed to do better in the ratings. They may offer Kathy full time and Melissa part time, or keep it as it. They are still debating what to do."
Keep following RadarOnline.com for breaking developments on this story!