Exclusive
Emotional Plea: Joe Giudice's Mom Reveals How Dad's Death 'Has Overcome Him' & Teresa In Letter To Sentencing Judge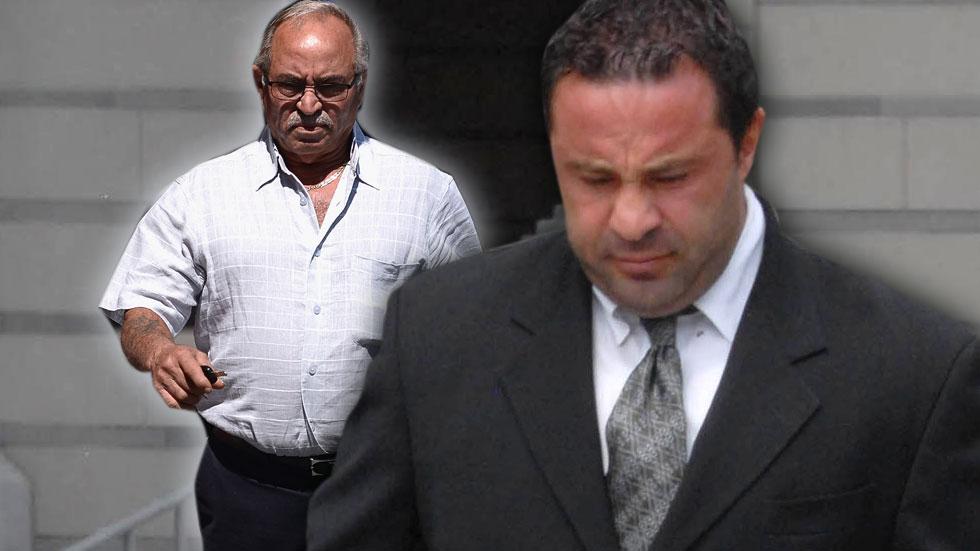 Joe and Teresa Giudice's prison sentences stunned the world, but their looming time behind bars is hardly the biggest shock that the family's experienced this year. This summer, Joe's father, Frank, died of a massive heart attack in the couple's backyard, sending the family — and especially Joe — into a tailspin. At yesterday's sentencing, Joe's mother Filomena opened up for the first time about the heartbreaking loss in an emotional letter to the court, and RadarOnline.com has all the details.
Article continues below advertisement
Joe's mother, Filomena, had hoped to be by his side for the sentencing on Thursday in Newark. But according to a courtroom insider, "Joe's attorneys said Joe didn't want her to see him like that."
Instead, attorneys read a letter she had written to the court begging the judge to reduce his sentencing, and explaining how "his family and friends know the Joe the public doesn't know," said the source.
June 18, 2014, the date of Frank's death, "was the worst day in Joe's life," the letter read.
"Joe's attorneys explained how much Joe loves animals, and said they had a chicken coop Frank was working on," the source told RadarOnline.com. "One day, he was working on it to finish it for them as a surprise. Joe came out and saw his dad lying on the ground."
And Filomena's letter recounted his last desperate moments.
"He died in Joe's arms," the letter read. "He tried to save him with everything he could."
Article continues below advertisement
At that point, the eyewitness told RadarOnline.com, "Joe bowed his head and had to wipe away tears with a Kleenex."
The letter continued, "This has been an extremely hard time in our lives. The heartaches my son is experiencing has overcome him. Joe has lost not only his father, but also his best friend."
"He has learned that family always comes first," the letter read, with attorneys begging, "Don't take him away from his family and from his kids."
Filomena also opened up for the first time about how the family made their way to America from Italy.
"I was born and raised in Italy," she wrote. "I lost my father at the age of nine and married at 14. I gave birth to Joe in Italy."
"We came to America with one baby and one bag on our arm," she wrote. "We have always been a strong family."
"The letter explained how Joe was always teacher's pet and very respectful," said the source. "Filomena said how he always helped her around the house."
But apparently, Joe's mother's words weren't enough. As RadarOnline.com has reported, he was sentenced to 41 months in prison — with more time for his pending state charges and deportation likely to follow.