Exclusive
How Much More Can They Take? Friends Fear For Giudice Children Amid Stress Of Grandfather's Death, Parents' Legal Issues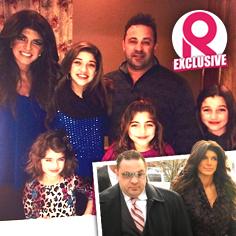 Article continues below advertisement
With their sentencing for felony tax evasion coming up on July 8, this is another situation that the children are having to unexpectedly dealing with.
"Friends of Teresa and Joe fear for the kids. They are very worried about how the daughters are handling everything," a second source said about the four girls, Gia, Gabriella, Milania and Audriana Giudice.
"They have been through so much stress lately, with the fear about the trial and their security and then to have their grandfather die in their home, this might be too much for them."
As RadarOnline.com previously reported, Gia expressed her anguish on Twitter, writing "this is not really happening now. This is not real…" Wednesday evening.
"The girls are all so young having to deal with all of these emotional situations. It is really a lot for little children to handle and so their parents are rightly concerned about them," the source told RadarOnline.com.
According to the first source, they are going to be surrounded by their closest kin in the upcoming days.
"The Giudice family is coming in from Italy and arrangements are being made now at Festas Memorial Funeral Home in Totowa, NJ."
However, everyone is focusing on helping the girls through this trying time.
"All four girls are loved by everyone and they're going to be protected at all costs," the source told RadarOnline.com.