Exclusive
Divorce Hank! Baskett's Transsexual Begs Kendra Wilkinson To Leave Her 'Lying, Troubled … Cheater' Of A Husband — Read The Bombshell Secret Letter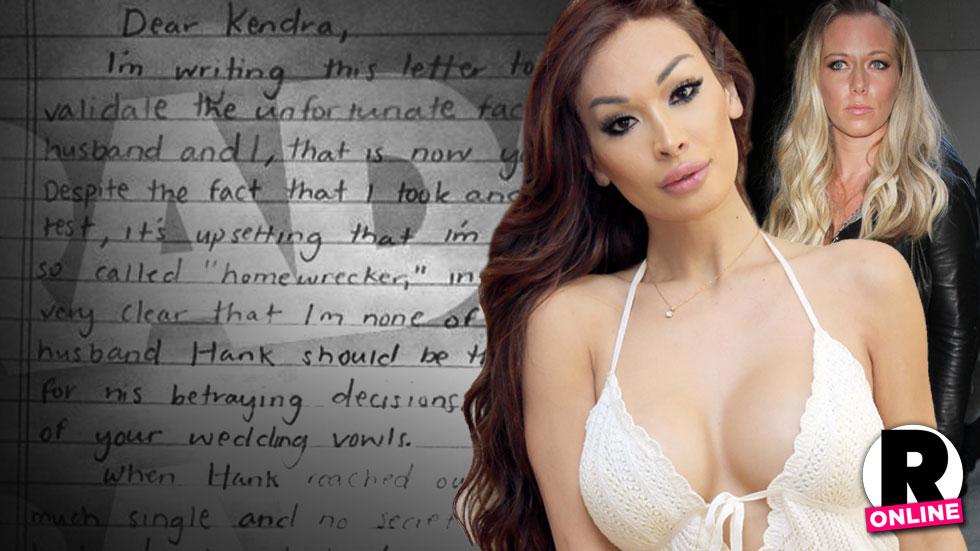 Article continues below advertisement
"I'm writing this letter to clarify and validate the unfortunate facts about your husband and I," London begins in the letter. Noting that she passed a polygraph on the affair, as RadarOnline.com reported, London writes, "It's upsetting that I'm still the villain … Hank should be the person held accountable for his betraying decisions, and the clear disregard of your wedding vows."
Explaining that she had no idea Baskett was married when they had their sex romp back in April, London says she later found out he had a son, Hank Jr., "and had another daughter Alijah on the way. In this situation, if anyone is a victim it's them."
MORE ON:
National Enquirer
Read The Bombshell Letter Here
"My heart goes out to them, for I'd never want this for your children or any family," she writes.
Shockingly, London offers to meet with Wilkinson to set the story straight. But barring that, she says she knows what Wilkinson must do.
"My advice to you, whether you asked or not, is to divorce Hank and save yourself from any future heartache and pain," she writes. "…Hank is a lying, troubled person, and I believe, 'Once a cheater, always a cheater.'"
Speaking of Baskett's lies, London slams his new claims, aired on Kendra On Top, that he went to her Sherman Oaks, Calif. Apartment for drugs. "I do not do drugs, nor do I sell them," London insists. "Hank came to me for a sexual encounter."
Do you think Kendra should divorce Hank? Let us know in the comments!
Watch: Hank Baskett's Mistress Reveals Details About Steamy Sex Session