Kendra Wilkinson's Mom Lashes Out! Feels 'Used' After Supporting Daughter Through Transsexual Cheating Scandal With Hubby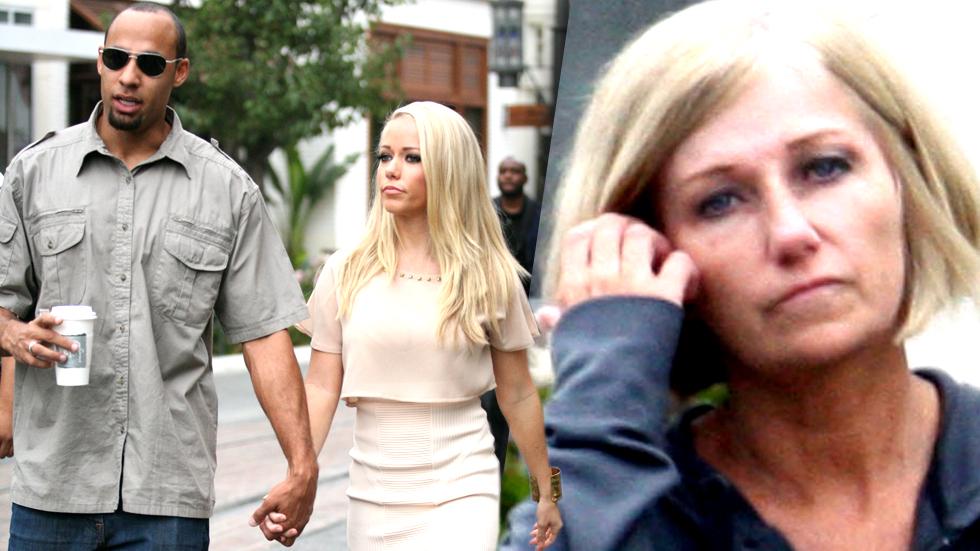 Article continues below advertisement
"After news of Hank's affair broke, I was there for Kendra the second she needed me. I drove up to her place and got to spend time with my grandchildren. It felt like old times, but then things took a turn for the worse. She just stopped talking to me," Patti said.
"It was like a switch flipped," she said, adding that Kendra suspected she was the leak when it was reported that the 29-year-old flushed her wedding ring down the toilet.
"I didn't! I told her that it had to have been someone in her inner circle, but she didn't believe me. She became very short with me and began pushing me away again. As a mom, I feel very used. I've asked her, 'Why do you hate me?' and she doesn't answer."
As RadarOnline.com previously reported, Kendra and Hank are reportedly filming a reality TV show about their marriage woes — ala Tori Spelling and Dean McDermott — and were recently photographed together in Costa Rica where Kendra was reconciling with her estranged father, Eric.
Article continues below advertisement
"Kendra and Hank are all about the ratings, so I knew they went there with a planned story line where, because of Hank's infidelity, Kendra felt it was important to reconnect with her estranged dad," Patti told Star.
"Just days before, I was picking her up off the floor, and now she can't even tell me that she's going to see her father, who left us — not to mention that she went with a guy who just cheated on her with a tranny."
Kendra and Hank, 31, are filming the series for WE tv and Patti is convinced it will be the demise of her relationship with her daughter — or what's left of it.
"Those two are so caught up in the show. It's all Kendra thinks about. It's disgusting, especially when you are hurting your own mother. I'm there for you when you need me the most, and this is how you pay me back?" Patti said.
"I can't do this anymore. I love my kids more than anything, but when a television show becomes more important than your relationship with your mom, it's time to realize that your priorities are messed up."
To read more of what Patti has to say about her fractured relationship with Kendra and what she thinks of Hank, pick up the latest issue of Star magazine.