Exclusive
Huge Success? Britney Spears' Upcoming Las Vegas Performances Half Empty— Despite New $30 Million Contract!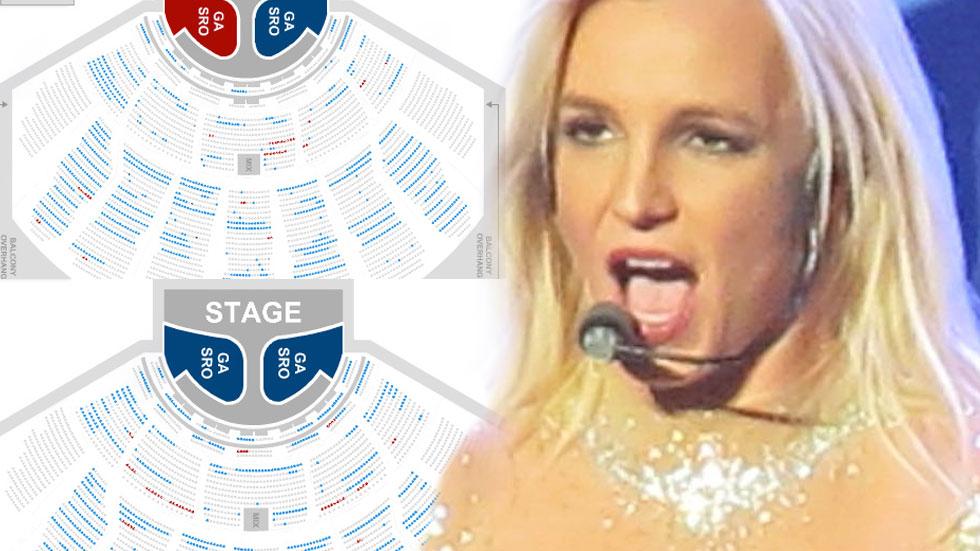 Britney Spears' Las Vegas residency is such a hit, she reportedly earned an enormous raise— $475,000 per show!— and signed on to perform at Planet Hollywood through 2017.
But are flans still flocking to Sin City for Miss Spears?
RadarOnline.com can reveal that 32-year-old mother of two has a shocking number of open seats for her upcoming shows.
For her Halloween performance tomorrow evening, nearly half of many sections in the 4,500-seat stadium are empty, and the $525-a-pop VIP section is a complete ghost town!
Article continues below advertisement
SEE FIRST MAP OF EMPTY SEATS HERE
Saturday night's scheduled show looks just as vacant.
SEE SECOND MAP OF EMPTY SEATS HERE
In June, Radar revealed that Spears was under fire for blatant lip-syncing and lazy dance moves during her 90-minute performances.
After watching "the lethargic dancing along with the terrible miming….we decided to leave the venue," one concertgoer wrote into Planet Hollywood's complaints log. "The show was shockingly fake and Britney looked bored as hell, to put it bluntly."
In the latest example of fumbles since her December 2013 debut, audience members claimed Spears mimed the words of "Perfume" to the sound of Sia's voice. (Her rep denied the voice belonged to the Australian singer, 38, who was featured on an acoustic version of the tune.)
Six months after her premiere, the pop star's manager Adam Leber confessed that his client doesn't always sing live.
"To put on the show that she puts on, it's virtually impossible to sing the entire time and do what she does," Leber explained. "She's singing on every song, basically, when she has the ability to sing."