Britney Spears' Lip Sync Confession: There's 'No Way' She Can Sing And Dance The Entire Vegas Show, Manager Says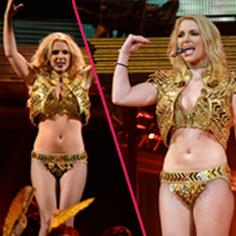 Britney Spears' publicist swore the pop star would sing live during her Las Vegas concert residency— but as the audience member lip sync accusations pile in, another member of her team is fessing up.
In an interview with Medium.com, Spears' manager Adam Leber confirms the lip sync accusations, explaining that the mother of two, 32, needs vocal help during her many dance-heavy numbers.
"To put on the show that she puts on, it's virtually impossible to sing the entire time and do what she does," Leber says. "She's singing on every song, basically, when she has the ability to sing. There's no way you can dance for 90 minutes straight and sing the entire time."
Article continues below advertisement
The confession is a far cry from her rep's original stance.
"Britney Spears will be singing live during her show (and) she will not be 'lip-synching," the publicist insisted before the Piece of Me show's December 2013 premiere at Planet Hollywood Resort and Casino.
Spears has been plagued by lip syncing complaints since her concert's early days: In February, a video surfaced of the star experiencing a tech malfunction, yet suspiciously singing perfectly and just weeks later, Spears forgot to move her lips while what seemed to be a track played her new tune "Alien."