Oops, Did She Do It Again? Fans Claim Britney Spears Caught Lip-Syncing During 'Piece Of Me' Show— To Singer Sia's Track!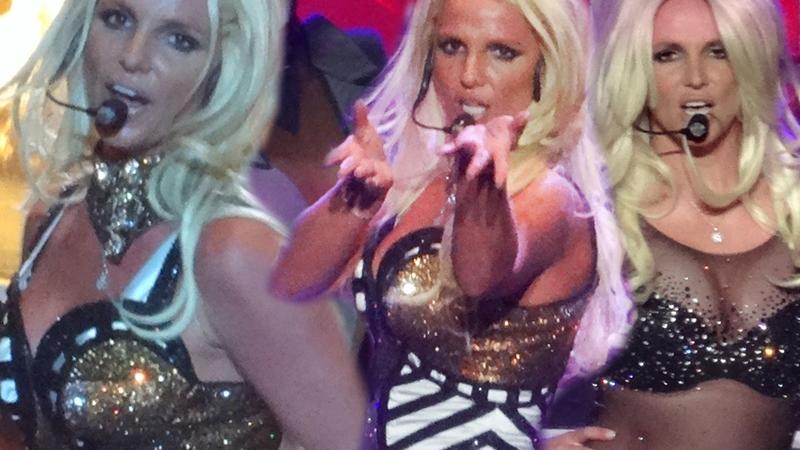 Britney Spears has been called out for sloppy lip-syncing multiple times since she kicked off her Piece of Me Las Vegas residency last December, but this example could be the craziest yet.
During a video of Saturday night's performance at Planet Hollywood, the 32-year-old pop star struts around and holds her microphone, seemingly singing sweet ballad "Perfume"—but Sia's voice is booming through the theater, according to many fans online!
Article continues below advertisement
The Australian singer and songwriter, 38, was featured on an acoustic version of the tune released in January. She also co-wrote the lyrics.
"I'm second hand embarrassed," commented a follower of the Spears fan Instagram account that posted the clip.
"Poor Britney," said another.
Spears doesn't miss a beat, holding her head high as she walks around the stage.
According to a spokesperson for the singer, it is indeed her voice -- and NOT Sia. He had a message for the doubters, too. "Get your ... ears checked."
But as RadarOnline.com exclusively reported in June, the mother of two has been slammed by disappointed audience members for her lip syncing and lackluster dance moves during recent performances.
"The show was shockingly fake and Britney looked bored as hell, to put it bluntly," one concertgoer complained to Planet Hollywood.
Spears' manager Adam Leber recently confirmed lip-syncing reports, claiming it's "virtually impossible" for the star to sing and dance for 90 minutes.