Ashton Kutcher: Mila Kunis & I 'Welcome Wyatt Isabelle Kutcher To The World'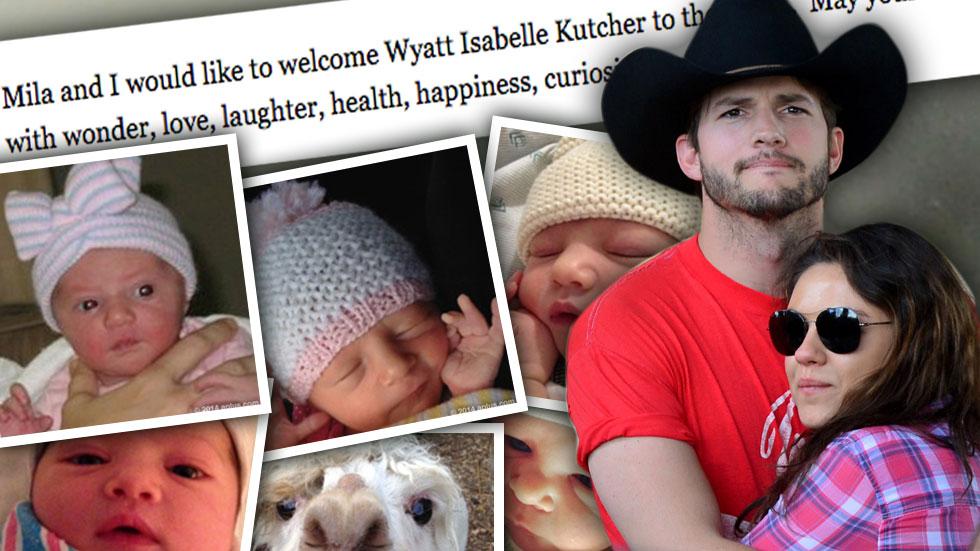 Ashton Kutcher revealed on his website Thursday that he and Mila Kunis named their newborn daughter Wyatt Isabelle Kutcher.
"Mila and I would like to welcome Wyatt Isabelle Kutcher to the world," The Butterfly Effect star wrote of his first child, who Kunis gave birth to on Tuesday. "May your life be filled with wonder, love, laughter, health, happiness, curiosity, and privacy."
The Punk'd star, 36, showed off his sense of humor by posting several pictures of newborns, asking the public, "Can you guess which one is ours, or does it really matter? All babies are cute."
Article continues below advertisement
Regarding the name Wyatt (synonymous with Tombstone lawman Wyatt Earp), insiders told People that the That 70's Show co-stars had their heart set on a unisex name, and kept their selection well concealed, only letting Kutcher's mother Diane in on the decision.
"I'm excited about being a full-time mom," Kunis told W magazine this summer, noting that she wouldn't hesitate to take some time off to tend to her little one.