Exclusive
Control Freak Or Proud Papa? Ashton Kutcher Driving Pregnant Mila Kunis 'Insane' By Regulating Her 'Diet & Exercise Routine'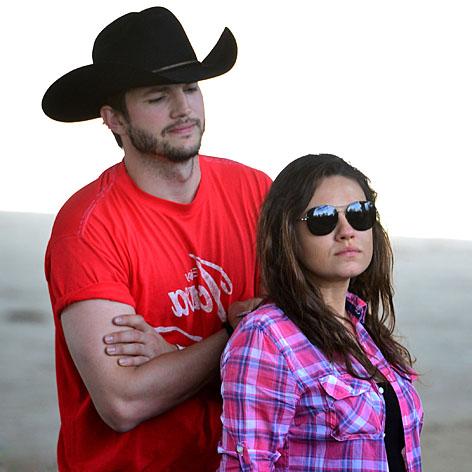 Ashton Kutcher's control freak ways are driving fiancée Mila Kunis "insane" during her pregnancy with their first child, RadarOnline.com has exclusively learned.
According to a source, "Ashton has been policing Mila about her pregnancy, diet and workout regime, and sulking when she blows off exercising or juicing with him."
While Kunis, 30, confirmed her pregnancy on the Ellen DeGeneres Show in May, she and Ashton, 36, have kept her due date under wraps.
Article continues below advertisement
Celebrities Involved In The Biggest Baby Scandals!
But the engaged couple is now in conflict over how she takes care of herself during the pregnancy, the source said.
"Ashton has always been weird about Mila's diet, even before she became pregnant, but now it's a whole other level of torture for her," the source revealed to Radar.
Kunis told TV host DeGeneres of her cravings, "I'm very stereotypical. I eat sauerkraut all day long."
And she confided that Kutcher had been helping with her food, saying, "He assumed that I was gonna have goofy cravings, so he stocked our secondary fridge with weird food, just like pickles, and sauerkraut, or like anchovies, and ice creams…just in case at one point during this pregnancy I'd be like, 'I really want something.'"
Meanwhile, the source said Demi Moore's ex-husband's treatment of Kunis is normal – for the former That '70s Show co-stars!
"Ashton is really hard on Mila but it's also because they have known each other since they were kids," the source added.
"So there has always been a weird, and sometimes mean, brother-sister dynamic to their relationship."