Threesomes, 10A.M. Drinks & Champagne Baths—New Book Reveals Hollywood's Iconic Stars Were A Bunch Of Bawdy Drunks!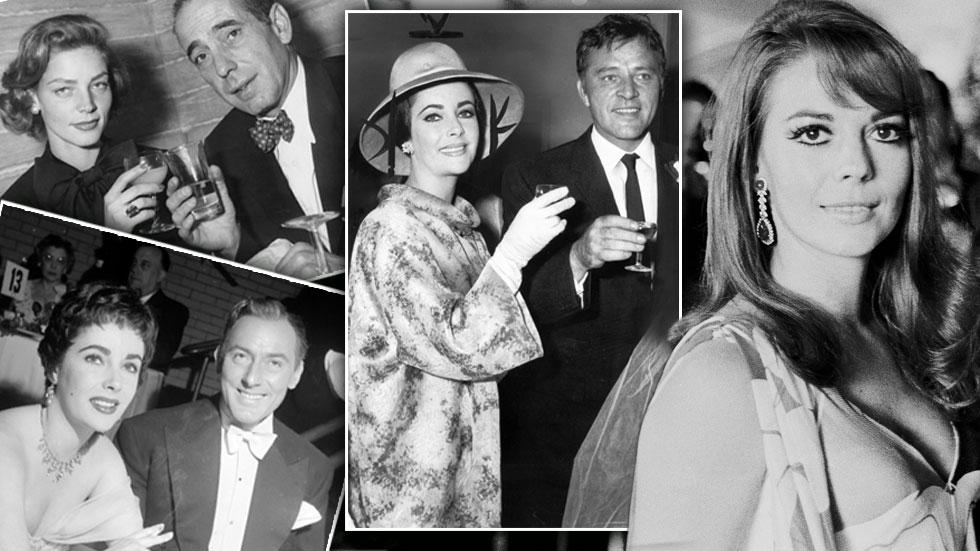 Many of the biggest stars of Hollywood's Golden Era in film enjoyed their success from the bottom of a glass.
In a blockbuster new book Of All the Gin Joints: Stumbling Through Hollywood History, author Mark Bailey and illustrator Edward Hemingway now detail the boozy brawls, hookups and exploits of the silver screen's heyday -- and the latest issue of The National ENQUIRER has all the details!
Among the most notorious drunks were Liz Taylor and Richard Burton. While filming The Night of the Iguana, Burton would guzzle a beer promptly at 7 a.m., finish a case and then switched to hard liquor. Taylor could hold her own, but she waited to begin drinking until 10 a.m., starting with vodka before switching over to tequila.
Article continues below advertisement
And when Burton was wasted, which seemed like all the time, he would grow vicious with Taylor, according to the book. "When Taylor paraded around set in ever-more-revealing bikinis, Burton would comment she looked like a tart," writes Bailey.
With booze come sloppy hookups. But Natalie Wood, who began drinking at age 15 with Frank Sinatra, kept her threesome classy when she went on a bender with her Rebel Without a Cause co-stars Dennis Hopper and Nick Adams. According to Bailey, Wood agreed to a ménage a trois — but only if she could "bathe in champagne first – like Jean Harlow."
As with most alcohol-fueled get-togethers, there were always plenty of fights. In 1955, producer Stanley Kramer for his flick Not as a Stranger assembled a cast of Hollywood's most notorious lushes, including Lon Chaney Jr., Broderick Crawford, Robert Mitchum and Frank Sinatra. The time bomb situation finally blew up into a boozy, brawling disaster when Crawford and Sinatra got into a slugfest.
Of course, sometimes the drunken antics of the stars brought out their silly sides. At New York nightspot El Morocco in 1949, Humphrey Bogart downed his drinks, accompanied by two 22-pound stuffed pandas. He got into a verbal altercation with a waiter who eventually refused to serve them. "I can take my Panda any place I want to," Bogie recalled. "And if I want to buy it a drink, that's MY business."
For more, pick up the latest issue of The ENQUIRER, on stands now.
Do you think stars of yesteryear were bigger messes, or do does the new generation put these Hollywood legends to shame?