Exclusive
Toxic Love! New Tell-All Blows The Lid Off Of Johnny Depp & Kate Moss' Allegedly Drug-Fueled Romance: Her Rehab Stay, Supermodel Threesomes & His Rages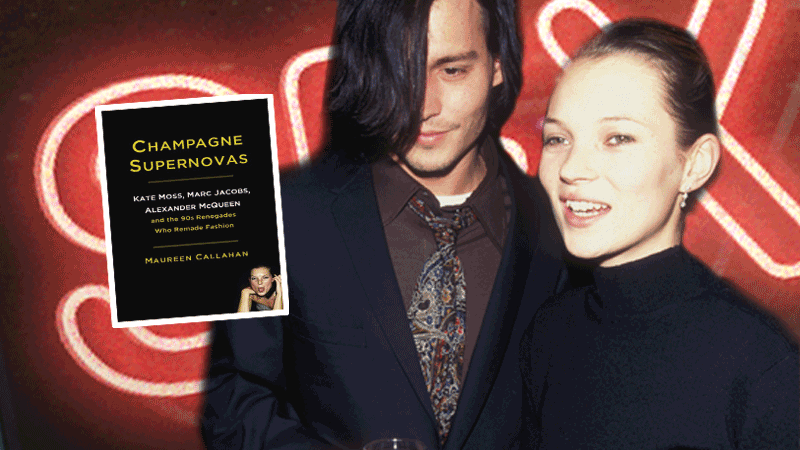 Perhaps Amber Heard should think twice before tying the knot with Johnny Depp.
Two decades before he proposed to his 28-year-old The Rum Diary costar, the leading man, now 51, allegedly became entangled in a passionate, violent, cocaine-fueled romance with '90s It Girl Kate Moss, a new fashion world tell-all claims.
When the then 20-year-old British supermodel met the budding movie star eleven years her senior at Café Tabac in New York's grungy East Village in February 1994, they allegedly went wild— for alcohol, for drugs, and for each other, Champagne Supernova author Maureen Callahan reports.
Article continues below advertisement
"They had a drink, did some coke, and then went back to his hotel room, where they holed up the next day through a snowstorm," Callahan alleges in her book.
The couple became immersed in New York's grunge culture and Los Angeles' club scene, where Depp owned debaucherous hot spot The Viper Room.
Chaos followed them everywhere. During Moss' 21st birthday party at Depp's nightclub the following year, their friend, actor Jason Donovan, overdosed on cocaine.
"Kate and Johnny were the chicest, druggiest couple since Keith Richards and Anita Pallenberg, the epitome of cool in a Trainspotting culture," Callahan says. "But Kate was often on edge with Johnny, afraid of his moods."
In one epic blowout between the couple, Depp caused $10,000 worth of damage to their room at NYC's Mark Hotel. Cops were called, and discovered a disheveled Moss "sitting amid the wreckage," the author claims. Depp was soon arrested, though the charges were eventually dropped.
Article continues below advertisement
By 1996, the wild young catwalk queen was becoming unhinged— which led to even more drama in her relationship with Depp.
"In one sitting, she could snort three grams of coke and drink a bottle of vodka, which a doctor said was the best liquor for preserving her looks," Callahan alleges. "She put stuff away so hard and fast that her nickname was 'The Tank.'"
Her extreme drug use led to paranoia: Moss began to suspect Depp was cheating on her, the book reports.
"She'd phone him all the time, on sets, in hotels," a friend allegedly told the author. "She never expressed concern about his drug use. She expressed concern about being separated from him on jobs."
The actor eventually dumped her in 1997, reportedly because "even he couldn't take the partying and the clinginess."
In pain after the split, Moss threw herself into partying, often with actor Jude Law and his wife, Sadie Frost. Drug use lead to wild sex between the friends, the author claims.
Article continues below advertisement
"The three became entangled," Callahan writes. "They all partied together, slept together."
In 1998, after a brief reconciliation with Depp, he dumped her again— in a public interview for his new film, Fear and Loathing in Las Vegas.
Depp soon began dating French singer Vanessa Paradis, and within weeks, she was pregnant.
Moss checked into the Priory, a London rehab center and mental health clinic, completely broken by Depp's betrayal.