Johnny Depp & Amber Heard Are Engaged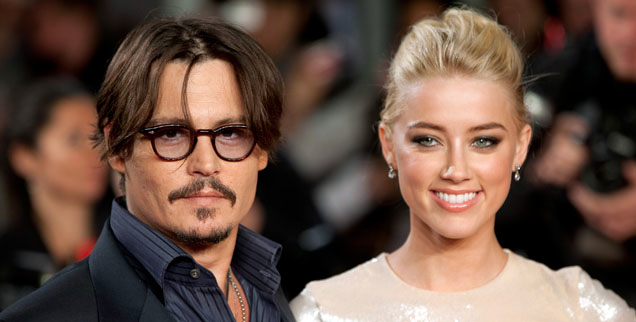 Johnny Depp is engaged!
He's given his openly bisexual girlfriend, Amber Heard, some major bling, and the two are planning to wed.
"They couldn't be happier to be engaged and excited to share the rest of their lives together," a source told People.
The news is a stunner for long-time watchers of the often eccentric Depp.
He had a 14-year relationship with French actress Vanessa Paradis, with whom he has two children, and in 2010 told Extra they had no reason to marry.
Article continues below advertisement
"I never found myself needing that piece of paper," he explained. "Marriage is really from soul to soul, heart to heart. You don't need somebody to say, okay you're married."
He and Heard met on the set of their 2011 movie, The Rum Diary, and he announced his breakup from Paradis in June, 2012.
Depp and Heard went public as a couple a short time later.
She was then coming out of a four-year relationship with Hawaiian artist, Tasya van Ree.
But it might be too soon to start buying wedding gifts, given Depp's romantic history.
He was briefly married when he was 20, and then was engaged to THREE different women, all actresses -- Jennifer Grey, Sherilyn Fenn and Winona Ryder. He also had a on-again, off-again relationship with model Kate Moss before finally settling down with Paradis.
"Relationships are very difficult. Especially in the racket that I'm in because you're constantly away or they're away and so it's hard," The Lone Ranger star told Rolling Stone last July.
The hasn't scared off Heard. She's been discreetly wearing her sparkler for several weeks and has been spending lots of bonding time with Depp's kids.