'The View' Feuds: Rosie O'Donnell & Whoopi Goldberg Fight In Front Of Audience - 'I'm Really Sick Of Your Sh*t!'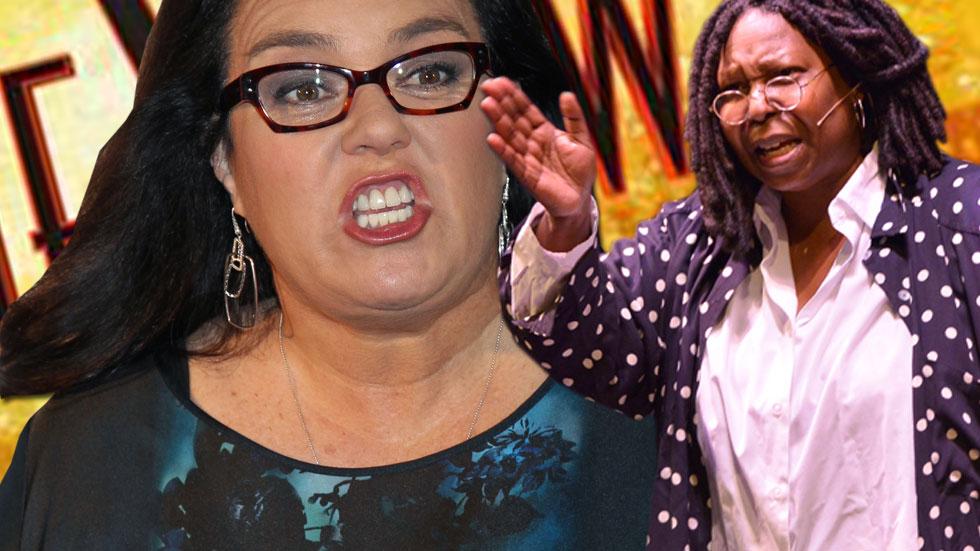 The View is a platform for public debate among the co-hosts, but the debate took a turn for the worse when Rosie O'Donnell and Whoopi Goldberg continued to fight during a commercial break – in front of the studio audience!
O'Donnell allegedly got upset when the show's moderator, Goldberg, cut her off during a "Hot Topic" discussion that O'Donnell had said she was passionate about backstage. But because the segment was running over its allotted time limit, producers told Goldberg to cut to commercial, a source tells MailOnline.
Article continues below advertisement
Because O'Donnell allegedly refuses to wear an ear monitor, producers are unable to talk to her throughout the show. As a result, producers told Goldberg, who does wear a monitor, to end the segment. That's when O'Donnell began to air her grievances.
"As soon as they went to commercial break, Rosie took the handheld microphone that they use to engage the audience," the show insider told the publication.
"Instead of talking to the crowd, Rosie spoke directly to Whoopi in the mic that she 'hurt my feelings,' and that she was 'very upset by it' and 'didn't appreciate' what Whoopi had done."
But Goldberg wasn't having it. Rather than engaging in the fight with her co-host, she merely said, "This isn't the time for this, Rosie." O'Donnell continued to press on with her grievances, saying, "Well I just don't appreciate you saying that you were going to do something and not doing it. It makes me upset and I just don't want to have to go through this," O'Donnell said.
Article continues below advertisement
Eventually, the moderator had had enough and snapped.
"F*ck it, I told you to leave it alone and you just don't want to listen. If you want to go there Rosie, I will dammit. I'm really sick of your sh*t!"
Fortunately, newcomer Rosie Perez lightened the mood with some comedic relief.
"Oh sh*t, Twitter is going to be off the hook now," she joked.
O'Donnell and Goldberg have been allegedly feuding for a long time now because O'Donnell wants her old job back as moderator.
Do you think Rosie O'Donnell was out of line? Sound off in the comments below!