Fleetwood Mac's Stevie Nicks Talks Cocaine Addiction, Warns Lindsay Lohan Is Flirting With Disaster By Hanging With A 'Gang Of Rich Kids'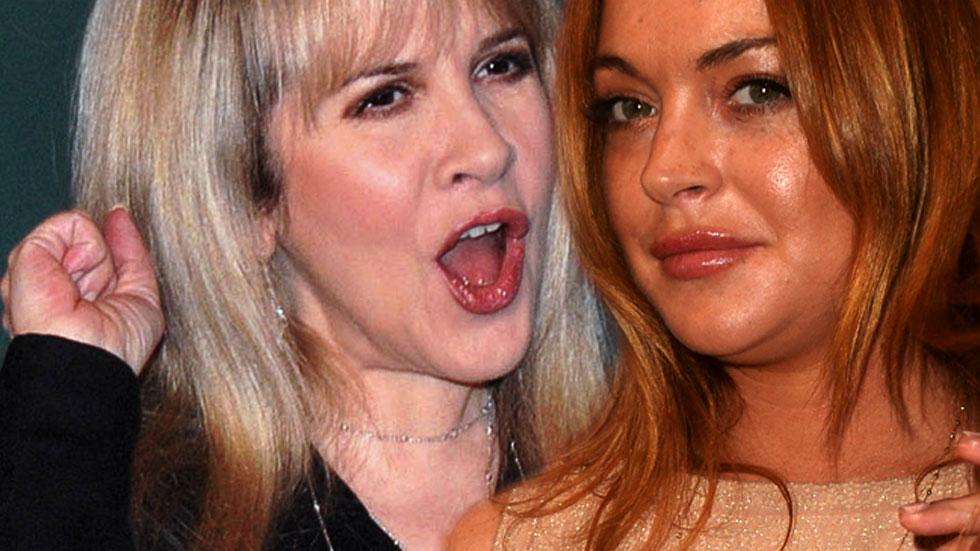 Legendary singer Stevie Nicks sees some disturbing parallels between her cocaine-fueled days hanging with the wrong crowd and the fast life troubled actress Lindsay Lohan is leading.
In a tell-all interview with Billboard, the 66-year-old Fleetwood Mac star opens up about her substance-abuse issues, revealing a doctor warned her she would "have a brain hemorrhage" if she did one more line of coke.
But it was watching a movie in 1985 on drug-addicted silent movie star Mabel Normand, who died at 37 as an indirect result of her drug use, which finally opened her eyes. "The documentary really scared me, because I saw this beautiful girl go downhill so fast," she notes. "Sometimes you can't see it in yourself, but you sure as heck can see it in someone else."
Article continues below advertisement
"And suicide was never my MO," continues Nicks. "I'm basically a happy person. I was a happy person back then. I just got addicted to coke, and that was a very bad drug for me."
Nicks got clean after a rehab stint in Betty Ford, but she now draws a comparison between Normand and 28-year-old Lohan.
"Cocaine was obviously a very bad drug for Mabel too. She had a gang of rich kids, like Lindsay Lohan today," she says. "That same bunch of girls comes around every 15 years."
Do you think Stevie Nicks' mention of Lindsay Lohan in her interview is fair game or a low blow? Tell us in the comments.