Exclusive
Truce On 'The View' Set! Rosie O'Donnell Ends Feud With 'Queen Bee' Whoopi Goldberg — Why She Backed Down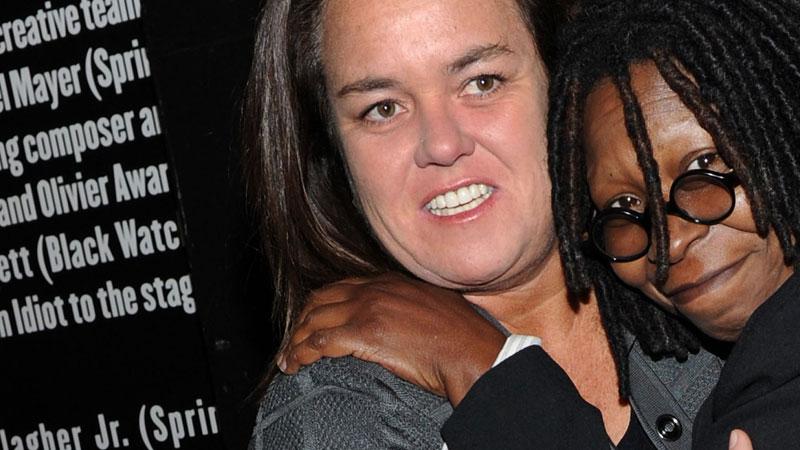 Has hell frozen over? RadarOnline.com has learned that two of the biggest daytime divas — Rosie O'Donnell and Whoopi Goldberg — are raising the white flag on the set of The View and vowing to make nice for the sake of their struggling show. Even more shocking, says a source, it's actually spitfire O'Donnell who backed down!
"Whoopi and Rosie hate each other," an insider told RadarOnline.com. "They're constantly at odds," making the truce even more shocking.
Article continues below advertisement
Oscar-winner Goldberg was actually on her way out of the hit morning chat show even before O'Donnell signed on, having had her fill of on-set drama.
Recently, she was overheard ranting, "I've been working with a cranky 85-year-old woman who's been mad about everything for two years, and I need a break" referring to The View executive producer and founder Barbara Walters, according to reports.
And the insider told RadarOnline.com that her departure was all but a given after talks with ABC. "The network bought her out for two years," the source said. "The deal was done." But then she changed her mind and decided to stay.
Sparks with controversial O'Donnell seemed inevitable, but RadarOnline.com has learned she's already backing off from the feud — because she knows she has the upper hand.
"Rosie knows ABC was set on buying out Whoopi," said the insider. "They want Whoopi out. That was the final carrot to get Rosie back. So she knows it's her show. That's why she's playing nice."
But until that day comes, the twosome has decided to show veteran View solidarity, even when it came to ganging up on potential panel co-host SE Cupp.
"Surprisingly, Rosie has decided not to rock the boat," continued the insider. "She'll let Whoopi be the queen bee. Rosie knows she has ABC completely on her side."
Are you Team Rosie or Team Whoopi? Let us know in the comments!