Teen Mom' Stars Leah Messer & Corey Simms Battle Over Co-Parenting: 'We'll Deal With It In Court!'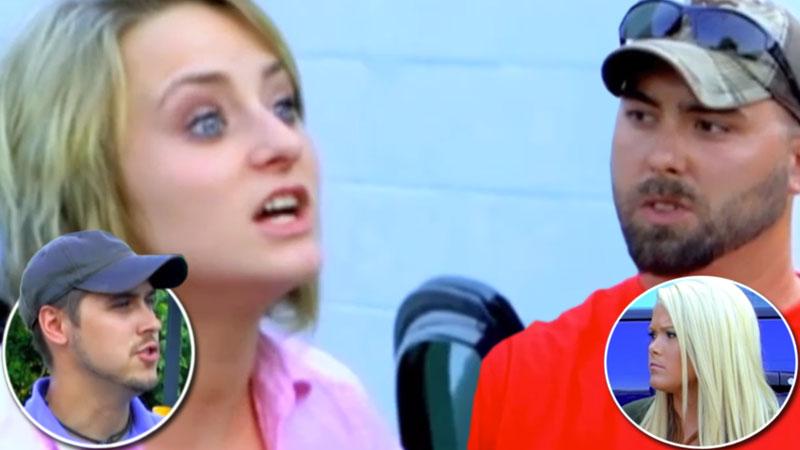 In a preview for the upcoming episode of Teen Mom 2, Leah Messer got into a fight with her ex-husband Corey Simms about their issues with co-parenting.
The fight started out when Messer asked Simms if he had ever called the insurance company about their daughter Aliannah's health issues.
"You can't just like call once and let it go for months on months and then not call again," she told him.
"They've got 30 days to make a decision," he replied.
Article continues below advertisement
Messer pointed out that they have to make sure that the insurance follows through.
"I understand that," Simms said. "I am doing the best that I can. The insurance is doing all that they can do."
But Messer wasn't satisfied with that answer.
"You can put more effort to it," she said.
Still, Simms defended himself.
"I've talked to them, Leah," he said. "I'm not sitting here… When I call them, they tell me it's still in consideration of the board. What am I supposed to say?"
But Messer wanted Simms to pressure the insurance company.
"Just keep calling them," she said. "Be like, 'Listen, this is very important.' Even her therapist is like, 'We've never heard this.' I mean, who are the people at your insurance? Nobody. Your daughter is more important."
This leads to another heated discussion.
"Yeah, but I think therapy is just as important," Simms returned. "And what we was told is he wasn't very happy about it. That she would be discontinued from the program if she didn't start coming."
Article continues below advertisement
Messer didn't agree.
"No, no, no. They called me," she said. "We went on vacation. You went on vacation… And I know what they said. She missed twice. You tell me why. One time I have a doctors excuse for why she wasn't there… No, don't f**king accuse me."
Simms then dragged Messer's husband Jeremy Calvert into the fight.
"Jeremy, you say I yell at her," he said to Calvert.
Messer was fired up at that point.
"No. Don't accuse me of stuff," she said in a loud voice. "I just got accused."
And Simms was wound up too.
"This is what happens, Jeremy," he said. "This is what happened. I said, 'I think therapy is just as important.'"
Messer again had to get her voice heard.
"Corey Tyler! You're trying to accuse me," she said. "Corey, see how you said it. You said it like I don't take her to therapy."
At that point, Calvert jumped in.
Article continues below advertisement
"I want to know why all of sudden the co-parenting went to sh*t," he stated.
"Because of you guys," Simms said, pointing at the Calverts. "And everything. It's all y'all. It's bull crap. And let me tell you something. Co-parenting hasn't been great. Every time that we talk, we argue. Now we're going to court because there's arguing."
Simms' wife, Miranda, who had been silent up until then, finally interrupted and shared her thoughts.
"I don't think that any of us need to be best friends, but I think we need to co-parent," she said. "And I think that's the most important thing. Nobody needs to be best friends and buddy buddy. It's get along for the girls and that's what they need to see."
"I'm not going to talk about it," Messer said. "We'll deal with it in court."
The fight ended with Messer's last words.