Exclusive
Bombshell Exclusive: Kris & Bruce Jenner Under Audit By The IRS!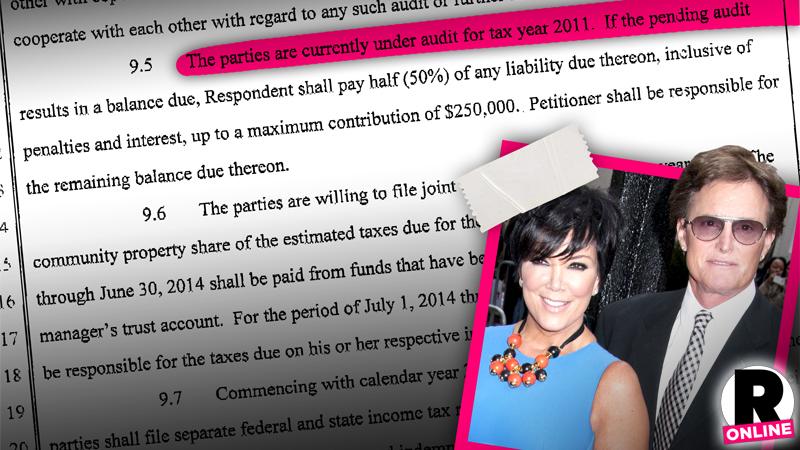 Kris and Bruce Jenner let their lives play out on camera, but RadarOnline.com has learned that the couple have been hiding one development from fans: They're being audited by the IRS!
The couple admitted their secret in recently filed divorce filings obtained by Radar.
The Keeping Up with the Kardashians stars "are currently under audit for tax year 2011," the documents reveal. "If the pending audit results in a balance due, Bruce shall pay half (50%) of any liability due thereon, inclusive of penalties and interest, up to a maximum contribution of $250,000."
Article continues below advertisement
Kris will be responsible for the remaining balance, according to the documents, which state that Kris and Bruce "filed joint federal and state income tax returns for the calendar years 1991 the year they married, through and including 2013 the year they separated, on June 1."
And, they admit, they could come under audit for any of those other years as well. The documents state that "each of the parties shall notify the other immediately of any audit, examination suit, or other proceeding in connection with any of the joint returns."
Kris and Bruce both "agree that they shall cooperate with each other with regard to any such audit or further assessment."
Kris and other Kardashian family members have previously come under fire for their charity donations, which can be used as a tax write-off.
But according to the IRS, some audits are completely random.
Story developing.