Bang The Red Cup! Miss New York's Kira Kazantsev Wins Miss America Crown After Out-Of-The-Box Display Of Talent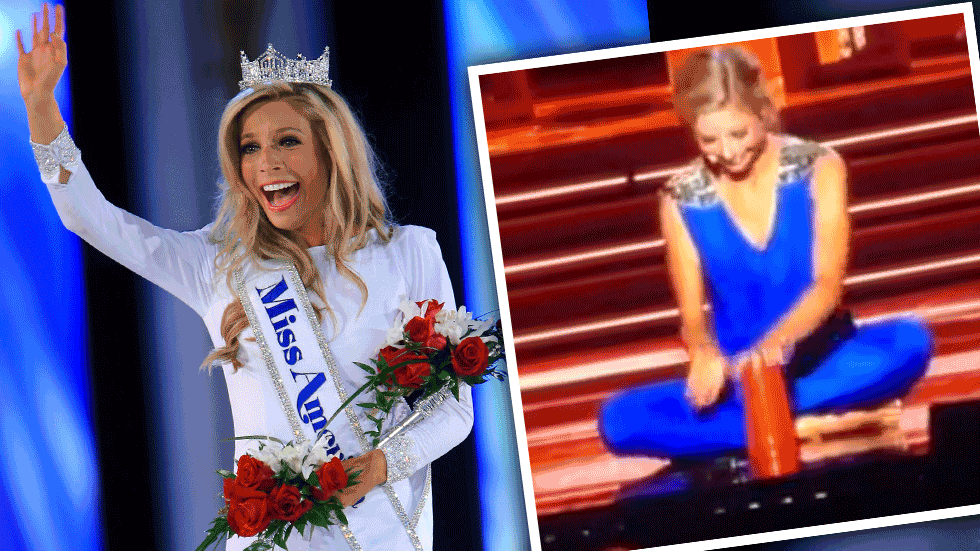 Kira Kazantsev was crowned the winner of Sunday's Miss America pageant from Atlantic City's Boardwalk Hall, as the Miss New York stood out, in particular, for her irreverent interpretation of Pharrell's "Happy," showing off her percussion skills with a red cup to reenact the hit song in the competition's talent portion.
While there were many a raised eyebrow on social media -- with some questioning the talent, or lack thereof, necessary to pull off the unique demonstration — the buzz, in part, helped Kazantsev stand out, en route to the magical moment.
Article continues below advertisement
The 23-year-old stunner defended the routine, saying her demonstration was a twist on a scene from 2012's Pitch Perfect, showing Anna Kendrick's character doing the same thing during a musical audition.
"I wanted every single little girl in America to be able to see that you can do that talent," Kazantsev, who was born in Manhattan to Russian parents, said of her thinking-out-of-the-box routine. "You can do whatever talent you want on national television — even with a red cup — and still be Miss America and have the time of your life.
Watch the video on RadarOnline.com:
Watch more news videos | Latest world news
"I literally in that minute and 30 seconds had the most fun I've ever had, and that's because I stayed true to myself and I did what I wanted to do for my talent, no matter what everybody else told me, and it paid off — I'm very happy about it."
Kazantsev said that raising awareness for the prevention of domestic violence and military sexual assaults will be among her chief talking points as an ambassador for the pageant over the next 12 months. She also collects a $50,000 scholarship, which she said she plans to earmark for law school.
Kazantsev, New York's third-straight winner in the annual contest, defeated Miss Virginia Courtney Paige Garrett for the honors; rounding out the top five were Miss Arkansas Ashton Jo Campbell, Miss Florida Victoria Cowen and Miss Massachusetts Lauren Kuhn.