Kanye In Kontrol Of Wedding; He Critiques Kim's Bridesmaids' Dresses, & Gets New Ones For Her At The Last Minute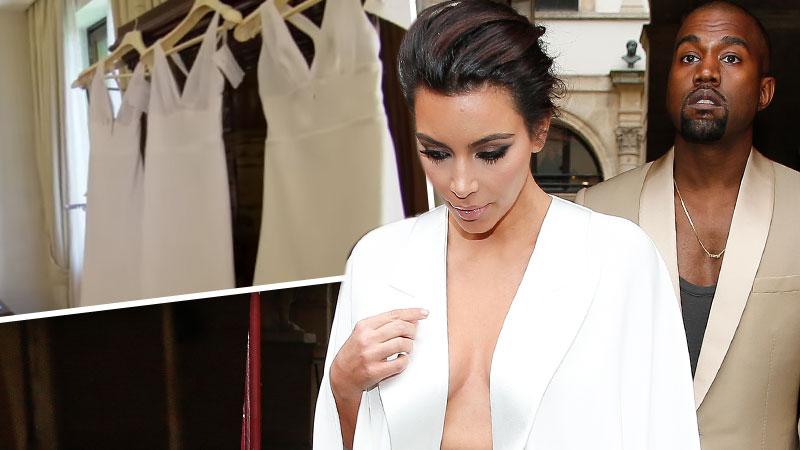 Article continues below advertisement
"I thought this was going to be lower," West told Kris, gesturing at her cleavage. "Do you like where it's at?"
He then told the others, "She needs a bra."
Meanwhile, Kourtney fretted that she didn't know if it was the best dress for concealing her baby bump.
Khloe also looked uncomfortable in the bridesmaid dress, which was done by an unnamed designer.
And later, at Kim's final wedding dress fitting at Givenchy, Kim was told that Khloe was "feeling really ugly" in it.
But Kim was thrilled with her wedding gown, and Kris asked her,"Has Kanye seen it?"
"No — he can't," Kim replied.
Kris laughed and commented, "That's the tradition, but I just wondered, knowing him."
Viewers then got a glimpse of Kimye's daughter, North West, playing on the long train of Kim's dress.
Later, at the rapper's Paris apartment, Kim announced that there would be all new bridesmaids' dresses, which the gals promptly tried on.
Article continues below advertisement
Revealing that her husband-to-be saved the day, Kim told the cameras, "It's such a relief and I'm so thankful that Kanye has these connections that he was able to call someone and get a dress in, like, a day.
"This second bridesmaids' dress is a hundred times better than the first one. It fits better, it's simpler, I think everyone will look so much better.
"I'm so happy that the girls love their dresses."
But fashionista West still wasn't satisfied, commenting, "I think it might be risqué?" as he looked at Kendall in the dress that featured a sheer bodice and a slit in the front.
"I think we're trying to figure out the look," Kim said to the cameras. "Kanye sees a vision … we definitely want his input. He recommends it's just more elegant without the slit. Of course, the girls kind of want a slit."
West was shown telling the ladies, "I think no slit. It's distracting."
Article continues below advertisement
"Without," he insisted as he left.
Also on the episode, Kim had a bachelorette party in Paris in which her friends and family shared memories of her romance with the musician.
Joyce Bonelli recalled how excited West was to play a song for Kim called "Awesome," which showed his love for her.
Sister Khloe said, "Kanye's been in love with Kim from the minute he saw her and I remember I was there … and he was staring at Kim like she was like Cleopatra.
"He could not stop looking at her and any guy Kim was with…he would always say to me, 'I know this is something your sister has to go through but I'm going to be here waiting.' "
Pal Tracy Nguyen then remembered how seven years earlier, West's manager hit her up for Kim's phone number.
Kim and West wound up on the phone for eight hours.
"He called me in the morning and said, 'So what are we going to do?' I said 'Well, I have a boyfriend, so we're not going to do anything,'" Kim said as the group laughed.
Article continues below advertisement
As everyone got ready for the wedding at the villa in Florence, Italy, more family dirty laundry was aired as Scott Disick said Rob Kardashian ended up not getting on the plane from Paris to Florence. Instead, he flew back home to L.A.
"I just can't believe he's going to miss Kim's wedding," Disick said. "It's something you're never going to be able to see again. It's upsetting."
Kim said in a confessional segment about her brother, "When Rob flew to Paris, he read some nasty comments about himself and he just didn't feel comfortable and he didn't want to see all my guests and it makes me so sad for him. It's just heartbreaking.
Article continues below advertisement
Watch the video on RadarOnline.com:
youtube=https://www.youtube.com/watch?v=EgrNkLlQ6dA&w=560&h=315
The bride said, "I don't even want to think about it. I don't want to talk about it. Today is my wedding and I don't want to cry. I thought it would be a happy day with amazing memories … we'll talk about Rob when we get home."
With Hollywood hair legend Chris McMillan desperately trying to adjust her veil, Kim sighed, "I don't know if I can wear it. It's the longest veil in history."
As lip liner was applied and the veil put back on, Kim said, "In a couple of minutes, I'm going to be walking down the aisle. For the months and months of prep we have spent getting this whole thing together, I can't believe that it's almost here.
"It's crazy that Kanye and I have been so close for so many years I finally feel like I'm marrying my best friend. I'm so thankful to have him in my life," she told the cameras.
Then, as West's song "Awesome" played on KUWTK, happy bride Kim walked through a field outside the wedding location and the show ended.