Joan Rivers' Fight For Life: She Faces 'Years-Long Rehab Process' That Will End Her Career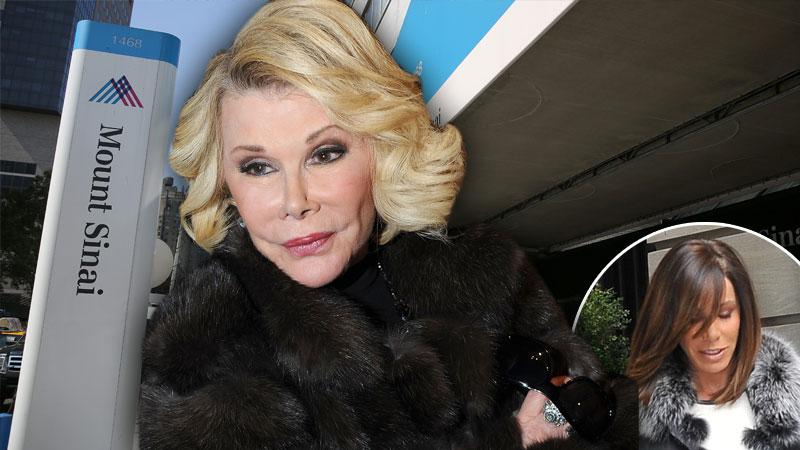 Joan Rivers remained on life support at New York's Mount Sinai Hospital Wednesday, her daughter Melissa said, as reports indicated the comedy legend could be facing years of rehab as the next hurdle in her recovery process.
Insiders told the NY Daily News that the 81-year-old Fashion Police personality -- who was rushed to the hospital last week after suffering cardiac and respiratory arrest during a procedure on her vocal cords -- could face a years-long rehab process that would effectively sideline her show biz career.
Article continues below advertisement
Despite the dark time, the comic's daughter remained compassionate and friendly as she kept vigil at the hospital, according to a family member of a patient being treated on the same floor as Rivers.
"It really affects her, what she's going through," the woman told the paper. "She's hurting, and yet she took the time to really care for us — and she doesn't even know us."
Echoing said sentiment, an insider told the NY Post that Melissa, 46, remained "a rock" during her mother's fight for her life.
"She is calmer than I've ever seen her: All these reports about doomsday are not true," the source said. "She is her mother's daughter and she's tough as nails.
"She's the person keeping everyone together."
As we previously reported, Melissa said in a brief statement Tuesday, "On behalf of my mother and our family, we are extremely grateful for all the love and support we have received. At this time, she does remain on life support.