Exclusive
Demi Lovato's 'World Tour' Sales Plummet — Tickets Offered At 58% Off For NYC Show!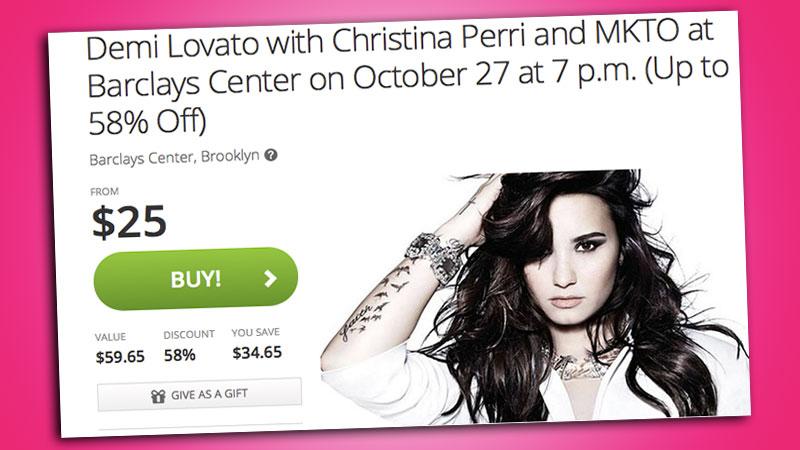 Demi Lovato's 'World Tour' isn't selling out as anticipated and tickets are even being offered on the deal and savings website Groupon at a whopping 58 percent discount, RadarOnline.com is exclusively reporting.
The tour doesn't even launch until Sept. 6, but it's a bad sign that tickets are already being slashed in price.
While some headliners like Pink, Katy Perry and Beyonce can rake in up to $600 per ticket, tickets for Lovato's Oct. 27 show at the famous Barclay Center in New York are selling on Groupon for just $25.
Article continues below advertisement
"You will not be able to select your specific seat," Groupon states, citing its use of a G-pass in which seating is generated after your purchase.
According to the seating chart on Ticketmaster, the show appears to still have at least half the tickets up for sale.
Lovato, 22, will begin her tour with a show on Saturday in Baltimore and there are still plenty of tickets left — in fact, the former X Factor judge has yet to sell out any of her 28 shows during the North American tour.
What do you think about Demi's tour — will it be big buzz or a complete bomb? Sound off in the comments below…