Exclusive
Power Couple In Crisis? Beyonce & Jay Z Face Dismal Ticket Sales For 'On The Run' Concert Tour After Cheating Reports, Elevator Brawl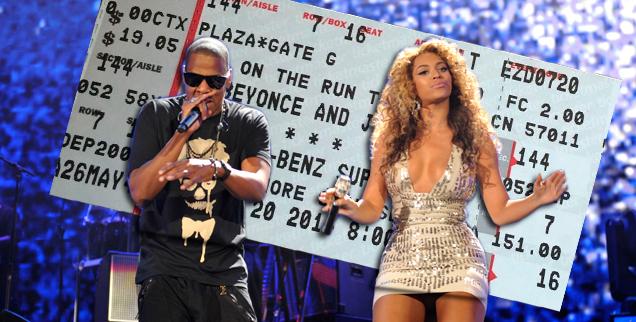 They say any publicity is good publicity, but it looks like the recent family drama and marriage crisis reports surrounding Jay Z and Beyonce are affecting their concert ticket sales — not in a good way!
A quick look on Ticketmaster reveals less than desirable ticket sales for the hip-hop royalty duo, with one industry insider exclusively telling RadarOnline.com their personal lives and a lack of airplay on the radio could be contributing.
Article continues below advertisement
According to the leading ticket sales distributer, tens of thousands of tickets are still available for the "On the Run" concert in Miami on July 25, as well as Atlanta on July 15 and a July 12 show in New Jersey.
These are metropolis cities across the United States that typically sell out concerts quickly, as they did with Justin Timberlake's recent "20/20" tour and Madonna's "MDMA" tour.
"Beyonce's album had a big first month with 'Drunk in Love', but the last several singles have tanked on the charts," the insider told Radar.
"If you're launching a stadium tour, you have to have airplay, and she's had no hits lately on the radio."
Fresh off her "The Mrs. Carter Show" tour, the couple announced their joint tour in April but were quickly met with negative publicity when her sister, Solange Knowles, was caught on camera engaging Jay Z in an all-out punching and kicking brawl in the elevator at The Standard hotel while sister Beyonce looked on.
MORE ON:
Justin Timberlake
Article continues below advertisement
UPDATE 2:13 p.m. PT June 18 -- A second source in the music industry close to the tour came forward to tell Radar, "There has been huge demand for the 'On The Run' tour with almost 1 million tickets sold, which is an impressive amount for a tour this large. It's one of the biggest tours of the year."
Why do you think Jay Z and Beyonce's concert isn't selling out? Sound off in the comments below…