Fans Clamor For California Tunnel To Be Renamed For Robin Williams Following Actor's Death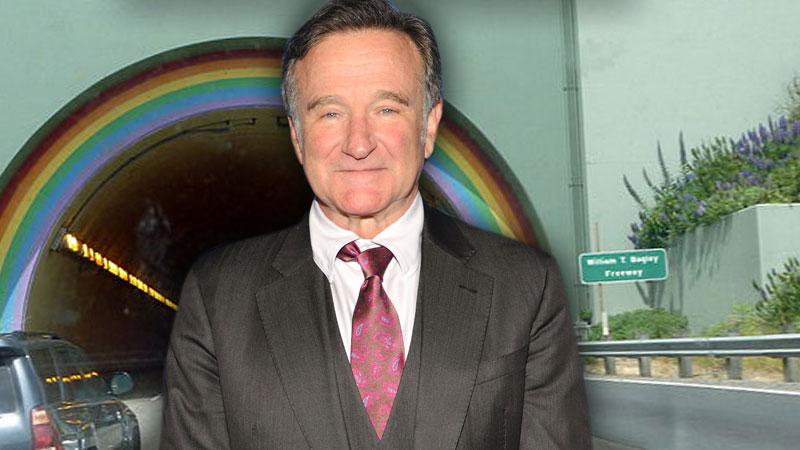 More than 10,000 fans of the late Robin Williams have affixed their names to a Change.org petition calling for the Waldo Tunnel, a Northern California pathway near San Francisco's Golden Gate Bridge, to be renamed in his memory.
On the petition, organizer Julie Wainwright said that renaming the tunnel, which is famous for a rainbow painted on its' edges, would be "to remember and honor the very important citizen and world renowned entertainer, Robin Williams, for the joy he brought to the world and to bring awareness to the silent illness that eventually took his life."
Article continues below advertisement
"I am very interested in this issue and will be exploring it further," Assemblyman Marc Levine, D-San Rafael, said after receiving the request "Something like this should be done in consultation with Mr. Williams' family.
"We all want make sure this is the most proper way to honor him."
San Francisco native Kelly O'Bannon noted that "there is no one better to be named for a tunnel that takes you out of the fog and into the sunshine than Robin Williams."
The channel was initially named for William Waldo, a Gold Rush politician who didn't live in California most of his life. Williams is connected to the rainbow motif through Mork and Mindy, as his character wore rainbow-colored suspenders.
In addition, he alluded to the structure on his 1982 HBO stand-up special "An Evening with Robin Williams," referring to the then-demographic makeup of Marin County.
"People going into Marin County say, 'My God, look at that little rainbow. Isn't that cute.' They lied. They lied to you — it's an ethnic detector."
The Academy Award-winning actor, who lived in the area for decades, tragically hanged himself at Tiburon, Calif. home last week. He was 63.