Exclusive
O.J. Simpson Has 'Full-Blown Obsession' With Kim Kardashian, Prison Source Says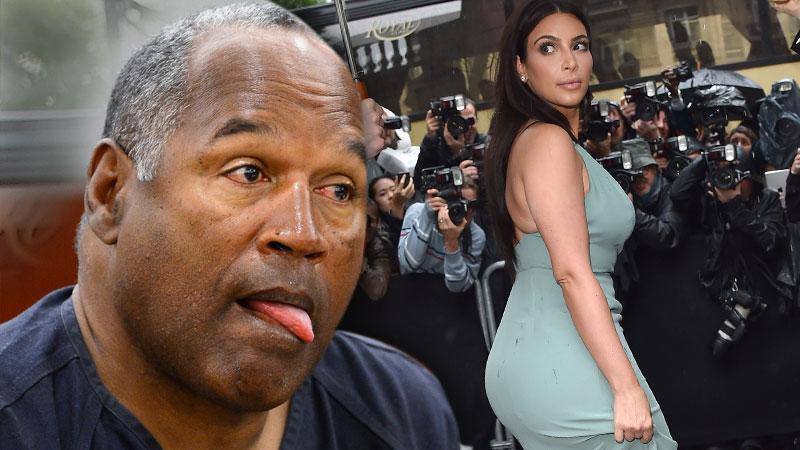 Jailed O.J. Simpson has a creepy obsession with Kim Kardashian, according to a prison insider, as "The Juice" has reportedly been drooling over pinups of the reality TV star from his cell, RadarOnline.com has exclusively learned.
Now, the disgraced footballer, 67, wants to hook up with Kim, 33, when he gets out if the pokey— and he doesn't care that she is a married mom.
"He has several sexy pictures of Kim hanging up in his prison cell from her 2007 Playboy shot and he isn't shy about showing her picture to fellow inmates," an insider told us.
Article continues below advertisement
Simpson is serving a 33-year sentence at Lovelock Correctional Center in Lovelock, NV for a 2008 robbery and kidnapping conviction.
Last year, the NFL Hall-of-Famer was granted parole on lesser charges from his 2007 holdup of two sports memorabilia dealers, but he'll still has to serve a minimum of three years in jail for convictions related to kidnapping and armed robbery in the case.
Simpson joked to a pal, "She likes black ball players, I am a Hall of Famer — and I still have my Heisman award," a dig at Kardashian's former boyfriend Reggie Bush who gave back his college football Heisman trophy after it came to light of some unethical dealings he was involved during his college playing days.
As far as her recent wedding to Kanye West, Simpson doesn't think that it's any big deal saying, "As long as I am in prison, I can't be with her so Kanye can have her for now.
"But when I get out she's mine."
Simpson and his then wife, Nicole Brown Simpson, used to be friends with Kris Jenner and her first husband Robert Kardashian, going on several family vacations with them in the late 80's early 90's when Kim was just a child.
Article continues below advertisement
The insider said that "luckily for Kim, O.J. won't be eligible for parole until 2017 at the earliest."