Nick Nolte's Ex-Wife Explains Actor's 'Disheveled' Look In Beverly Hills – It Was Just A Cold! 'I Want To Take Care Of Him'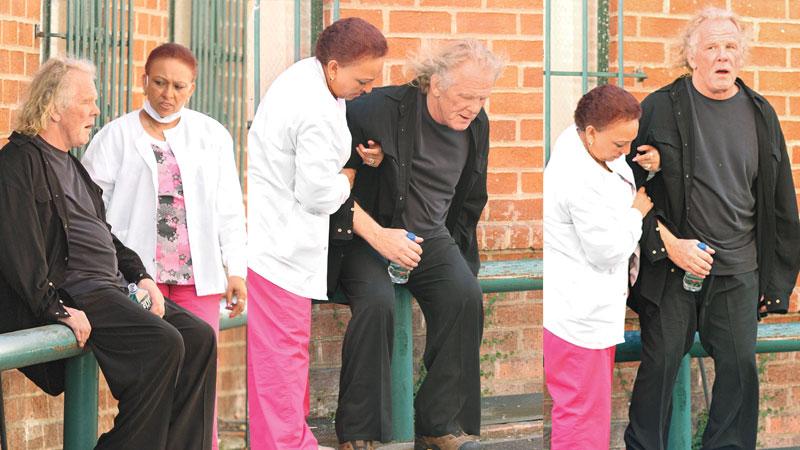 Nick Nolte looked Down and Out in Beverly Hills after a recent health crisis, according to a new report in The National ENQUIRER.
The veteran actor, 73, appeared ailing and disheveled with long gray hair when he was spotted outside a doctor's office in Beverly Hills being assisted by a nurse.
Nolte's ex-wife, Rebecca Linger, exclusively told The ENQUIRER, "He actually got sick last week. It was the flu or a cold. He was dehydrated, needed to get fluids, and rest. He probably needed antibiotics."
Article continues below advertisement
Although Linger divorced Nolte in 1994, and he has a live-in girlfriend, British actress Clytie Lane, his ex-wife is the one helping him.
"Even thought I don't want to be married to Nick, I still love him and want to take care of him," said Linger.
Nolte shocked fans in 2002 by appearing in one of the most famous celebrity mug shots in history.
The 48 Hours star was snapped in a Hawaiian shirt with wild scraggly hair and a dazed expression after being nabbed by the California Highway Patrol for a DUI. Bizarrely, Nolte was under the influence of GHB, the date rape drug the actor admitted he'd been taking for four years. He later pleaded no contest and received three years probation.
For more on Nolte's latest health battle, pick up the new issue of The National ENQUIRER, on stands now.