PHOTOS: Nick Nolte In Wacky Water Fight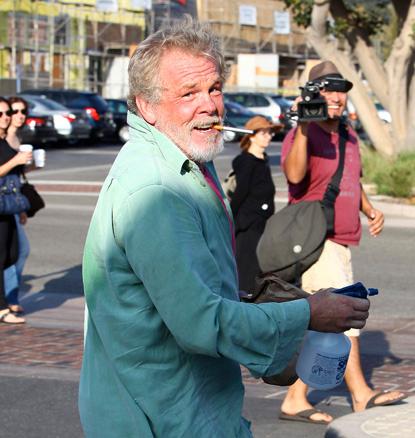 Nick Nolte -- Whose face graces one of the most legendary celebrity mugshots EVER, and more than a few movies -- tried to get into a water fight Saturday but had no takers.
Nolte, a longtime Malibu resident, went to a local shopping center and when he saw photographers in the parking lot, began spraying them with water -- laughing and smiling as he ran in circles.
It's hard to tell if Nolte thought the shooters would fight back but they all just laughed with him, some even thanking him for the cool down on a hot afternoon.
Article continues below advertisement
Nolte is barely recognizable these days from the actor who starred in The Prince of Tides and 48 Hours, but he still knows how to draw a crowd.
The 69-year-old actor is now working on a remake of Arthur, the classic 1981 Dudley Moore film about a happy drunk.
No, Nolte doesn't have that role -- it went to the much younger Russell Brand. Nolte plays his loyal houseman.
Related Stories:
Nick Nolte's Son Busted For DUI & Possession