'Everyone But You Is Over It': ESPN's Reporting Of Openly-Gay NFL Pioneer Michael Sam's Showering Habits Irritate Teammate, Tweeters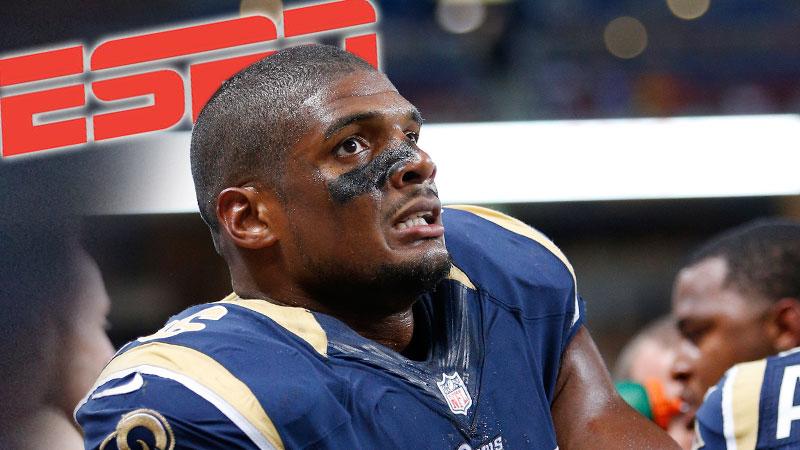 ESPN had a controversy on its' hands after a report about how openly-gay football player Michael Sam's fitting in with the St. Louis Rams included details about his showering habits, quoting an anonymous teammate who suggested the defender has been avoiding the team showers in a possible attempt to put his gridiron colleagues at ease.
On SportsCenter, reporter Josina Anderson indicated that "another defensive player told me Sam is 'respecting our space' and from his perspective he seems to think Michael Sam is kind of waiting to take a shower so as to not make his teammates feel uncomfortable."
Article continues below advertisement
In response, Rams star defender Chris Long, a team leader, tweeted: "Dear ESPN, Everyone but you is over it," one of many social media criticisms of the network's line of reporting.
One user under the handle @2xAught7 wrote, "ESPN: Your Worldwide Leader in Michael Sam Shower Updates," while another under the handle @Sportsgal1972 tweeted, "Your Michael Sam shower habits coverage is disgraceful. Get it together. #NFL."
The network defended its' work, saying, "In response to recent questions about Sam fitting in with the team, multiple Rams brought up the shower topic and we relayed that information as part of our reporting."
Watch the video on RadarOnline.com.
youtube
The network also told Talking Points memo the report was not sensationalized, as it was an offhand detail, as opposed to the crux of the story.
"It was the last part of a news segment — not the headline or lead item in the report," network insiders told the outlet. "The player who answered our reporter's question directly brought it up on his own — she asked how Michael Sam is fitting in. She did not ask a shower question.
"Michael Sam wasn't made available today for comment, so we didn't have something directly from him on this."