REPORT: NFL Superstar Aaron Rodgers Implicated In Gay Controversy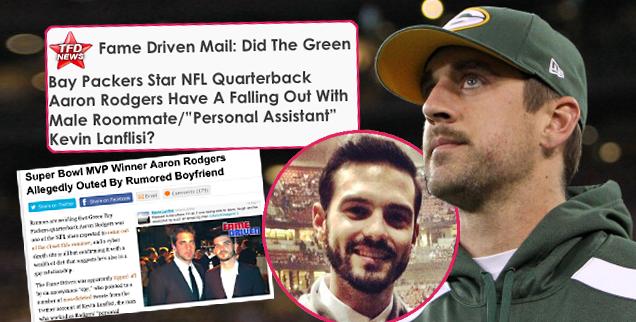 A number of online outlets have published reports speculating that Green Bay Packers quarterback Aaron Rodgers was involved in a gay relationship with his one-time roommate and assistant Kevin Lanflisi, and we've got all the details for you right here on RadarOnline.com.
Initially broken by TheFameDriven.com, the story has also been covered on sites such as queerty.com and Newnownext.
TheFameDriven's report states that Lanflisi and Rodgers had a falling-out after Rodgers agreed -- then, at the last minute, refused -- to join a group of NFL stars preparing to publicly identify themselves as gay this past summer. The report goes on to say that Lanflisi subsequently moved out of Rodgers' Wisconsin home and headed for California following the severance.
Article continues below advertisement
The report includes a number of photos to illustrate the bombshell allegation, taken from screengrabs of Lanflisi's Twitter page (which were subsequently removed). Among them, the images feature Lanflisi and Rodgers posing at black-tie events, on the golf course, and at casual gatherings; as well as a Lanflisi selfie wearing Rodgers' Super Bowl ring following the Packers' 2011 win in the big game.
Their source, referred to as a spy, noted that Lanflisi "was also the first person Aaron embraced when the Packers won the Super-bowl in 2011," and as of late, has posted a string of "bitter subliminal" tweets … alluding to a relationship much deeper than a friendship he had."
In one instance, Lanflisi captioned a Sept. 30 selfie, "Silence always comes with an expiration date.."
The website's source added that Lanflisi "has NEVER once tweeted about having a girlfriend just mainly about the Green Bay Packers, Aaron Rodgers, and Justin Bieber's music and sitting front row at Bieber's concert." (Rodgers, 30, has been romantically linked to model, and lifelong pal, Destiny Newton.)
Article continues below advertisement
In their attempt to dig up more telling info, the site published excerpts of a year-old MilwaukeeMag interview with the ace passer, in which he said he judges the rich and famous parade of people he meets "based on how they are to people like Kevin.
"Kevin, he's not a famous person," Rodgers told the magazine. "I want to see if they give Kevin the time of day, or if they big-time him."
Going back further, to 2008, Rodgers talked up Lanflisi to the Sporting News, when asked about who he lives with.
"I've got a roommate, a guy I met in town," he told the outlet. "He works for the Packers now as an athletic trainer, but he was interning when I met him and we just hit it off. He's been great for me as far as great conversations outside of football.
"Our friendship goes a lot deeper than what we do."
As we previously reported, free agent linebacker Brendon Ayanbadejo said at an April PFLAG event that as many as four players were discussing whether to come out as a group.
Article continues below advertisement
Rodgers, who played his first game Sunday in nearly two months while recovering from a broken collarbone, has not addressed the reports on his Twitter account.