Married To The Mob? Michael Sam Boyfriend Vito Cammisano Hails From A Midwest Mafia Family!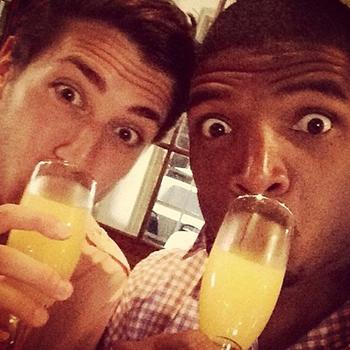 Michael Sam and longtime boyfriend Vito Cammisano warmed hearts around the world when they locked lips after learning the football hunk was selected by the St. Louis Rams
on May 10, making him the first openly gay player drafted by an NFL team.
But football fans will be shocked to learn that the beloved University of Missouri grad's main man has a dark secret: According to the Daily News, Cammisano is the grandson of late Mafia boss William "Will the Rat" Cammisano, notorious for allegedly killing enemies and dumping their bodies in sewers!
Article continues below advertisement
While the handsome former University of Missouri swimmer, 23, has no history of illegal activity himself, his grandfather was the boss of the Kansas City-based Civella crime family until his 1995 death. The elder Cammisano gained fame for refusing to speak about mob crimes in a 1980 Senate hearing.
Celebs Who Have Come Out As Gay Or Bisexual
"I knew both from my father and others that Willie was called Willie the Rat because he killed people and stuck them in the sewers so the rats could eat them," Fred Harvey Bonadonna, whose father was killed by the mob, testified at the hearing.
And Vito's father, Gerlarmo Cammisano, was also involved in shady mob activity: The 60-year-old reportedly served 14 months in prison for running a $3.5 million Kansas City gambling ring.
So far, the communications major, who graduated in 2013, seems to be on the straight and narrow, and will continue supporting Sam, 24, from the sidelines.
"Could not be more proud of my babe!" he recently tweeted.