Exclusive
Obsessed With Perfection? Kim Kardashian's Trainer Reveals 'Intense' Post-Baby Workouts Burning '1000 Calories An Hour'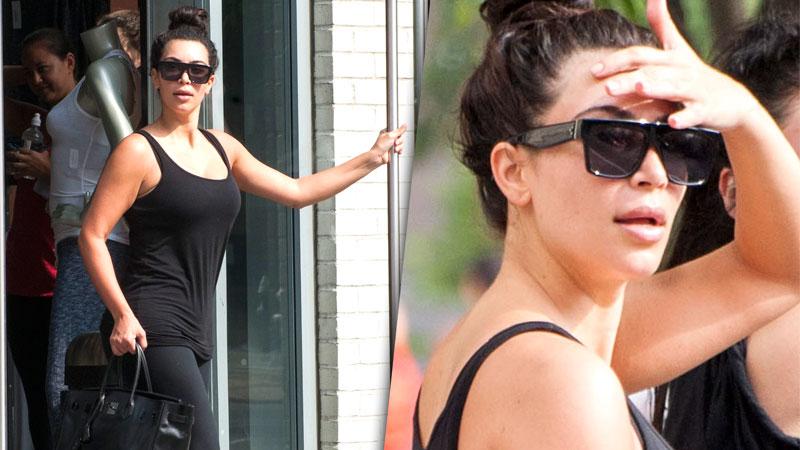 Has Kim Kardashian gone too far in her quest for perfection? The reality TV star has already bounced back from giving birth to daughter North West last year, but complained on Twitter Tuesday about how she still "can't seem to shake the last 15-20 lbs. of baby weight" — and is planning a drastic diet and exercise campaign to slim down even more. Now, her trainer is speaking out exclusively to RadarOnline.com about her "intense" post-baby workout routine, as fans beg her not to go too far.
Article continues below advertisement
"Kim has been coming in quite regularly lately," Joey Gonzalez, Celebrity Trainer and Partner at Barry's Bootcamp Sherman Oaks tells RadarOnline.com exclusively. "We focus on different areas of the body each day and Kim has been frequenting every class to make sure that she gets a full-body workout."
Kardashian has been a devotee of Barry's for a long time, but Gonzalez says she has "stepped up" her workouts following the birth of North West last summer.
"You can burn up to 1,000 calories per workout at Barry's, and Kim's great attitude and positive demeanor help her power through the toughest portions of a session and get the maximum burn for her buck," Gonzalez says.
That dedication was obvious when the KUWTK beauty tweeted Tuesday that she was "starting diet TODAY! No carbs. Crazy workouts" on Tuesday. But fans wondered if her unrealistic expectations could have her heading for disaster.
Article continues below advertisement
"You're already looking so good!" @perffjenners wrote.
"You have like the most beautiful body idvi I don't get it," @kysyeetmichael chimed in.
And @ThomCherry wrote, "Kim you look really skinny in the face … Don't lose too much weight!"
But now, an expert tells RadarOnline.com that while Kardashian's weight obsession may seem over-the-top, it's not just narcissism.
"It is very common for new mothers to be tough on themselves," Jenn Seracuse, Director of Pilates at FLEX Studios NYC tells RadarOnline.com exclusively. "Just because the baby is out does not mean that your body is going to go right back to where it was. Your bones move and your abdominal muscles stretch more than 50 percent!"
So what advice does Seracuse have for Kim when it comes to tightening her world-famous rear end?
"Squats, squats and more squats!" says Seracuse.
Is Kim Kardashian being too hard on herself? Let us know in the comments!