Kim-gelina? Kardashian Tells Kanye West She Wants To Adopt Orphan From Thailand: 'This Girl Is So Sweet And So Cute'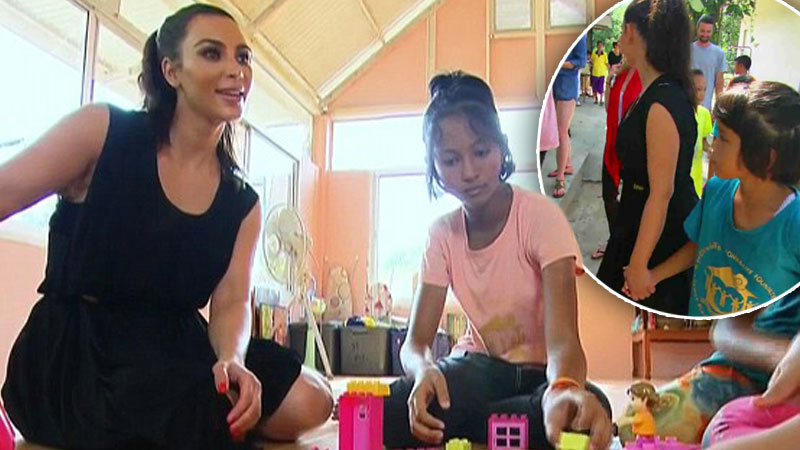 Kim Kardashian contemplated adopting an orphan while on vacation with her family in Thailand on Sunday night's Keeping Up with the Kardashians, and the reality TV queen was so serious about the idea that she told husband Kanye West, father of their daughter North, about the special little girl who'd caught her eye.
In the episode, Kim played games with kids and bonded with a girl named Pink while she and the entire clan visited a Thai orphanage and donated items such as food, pillows, clothes from the Kardashian Kids collection, toys, and medical supplies.
Article continues below advertisement
After Pink gave her a bracelet as a goodbye gesture, Kim told the cameras, "They have nothing and she gave me her bracelet. I have this draw to this particular girl.
"I literally want to take her home with me."
Watch the video on RadarOnline.com:
youtube=https://www.youtube.com/watch?v=_hOX1i4wSJU&w=560&h=315
Kim couldn't get Pink out of her mind and later told stepbrother Brody Jenner, "it was just so sad," to see how impoverished the kids were.
"I'd love to give them the proper education and clothes," she said. "I'm looking into it a little bit."
In another scene, Kim told stepbrother Brandon Jenner and her mom Kris, "I literally cannot stop thinking about her. I told Kanye this girl is so sweet and so cute I would totally adopt her."
But the Momager didn't like the idea one bit, telling Kim, "Oh, my gosh. That's a little aggressive. I think that you can't just go to an orphanage and fall in love with a child and then take them home like you're shopping."
Article continues below advertisement
Kris admonished Kim, "You get very passionate about things and then you don't think the whole thing through. I bet there are other things you could do that would make all the difference in this little girl's life that you could do without bringing her home."
But Kim was undaunted, telling told the cameras that "adoption would be amazing."
Still, after learning adoption is difficult in Thailand, because so many children have been exploited, Kim dropped the idea and she and her mother donated a swimming pool to the orphanage instead. And Kim said a dramatic goodbye to Pink and the other children wearing a skin-tight red dress!
MORE ON:
Keeping Up With the Kardashians
"I'll always remember her," Kim told the cameras.
Also on the episode, Brody went berserk when a man at a bar touched his sister Kendall Jenner inappropriately.
When the two went to the Thailand resort's bar, Kendall whispered to Brody about the other patron sitting on a stool, "Brody, that guy just grabbed my a**."
"Did you f*cking touch my sister? Are you f*cking kidding me, bro?" the mercurial man candy barked at the creeper, hitting the guy in the head and knocking the glasses off his face.
Article continues below advertisement
They got into a scuffle and the unidentified man was shoved away by security, while Khloe Kardashian applauded Brody.
But the scene was disturbing for another reason—model Kendall, just 18, appeared to have a glass of white wine in front of her while hanging out with Khloe, Brody, and Brandon. The legal drinking age in Thailand is 20. As RadarOnline.com has reported, although both Kendall and Kylie are underage, they have been caught in a boozing scandal before.
KUWTK viewers also saw Brody and Brandon trying to set Khloe up with men in Thailand, hoping she'd have a vacation fling to get over her divorce from Lamar Odom.
Sister Kim liked the idea, but Khloe said had no desire for a one night stand.
As RadarOnline.com has previously reported, Khloe talked about how Odom had messed around with other women, and she also said he'd gone MIA again. "I'm pretty upset about it, but I don't know what to do. I want to make sure he's okay. I don't know why but I need to."