Exclusive
Kate Gosselin And Married 'Ex-Boyfriend' Steve Neild Reunited! Spotted With Twins At One Direction Concert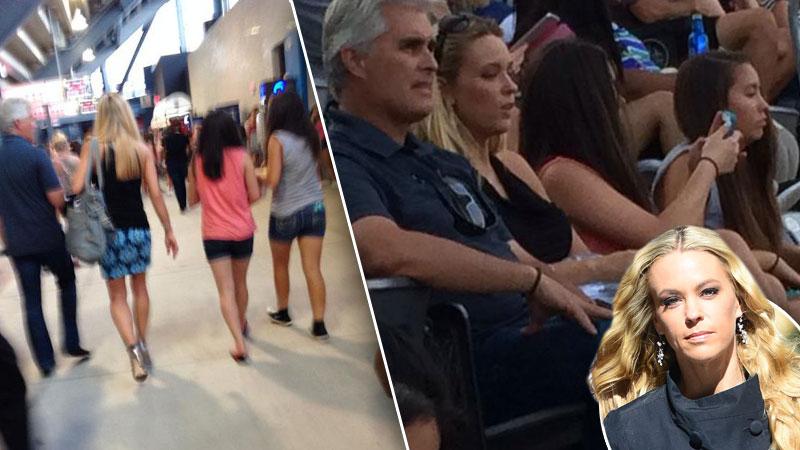 He might not be her bodyguard anymore, but that doesn't mean Steve Neild and Kate Gosselin are going to stop seeing each other!
In fact, the two were photographed Tuesday night at the One Direction concert in New Jersey with Gosselin's 13-year-old twin daughters — just one week after reports surfaced that Neild left his post with the reality TV family to go back to his wife and kids.
Romance rumors about Neild, 51, and Gosselin, 39, swirled for years, and his wife Gina finally threw down the gauntlet.
Article continues below advertisement
Gina "told him his time with Kate as her bodyguard was making the family miserable and that he had to make a choice," a source told The National ENQUIRER.
An insider exclusively tells RadarOnline.com the two are still "broken up" but remain friends, despite trying to cut off all communication, "they will always have a connection."
"I was just in a bathroom with kate plus 8 wtf!?!?" one tweeter wrote before posting a photo of Neild, Gosselin and the twins Mady and Cara, with the caption: "KATE PLUS 8 and the twins."
"its always fun to see kate gosselin at concerts," another captioned, showing Neild and Gosselin sitting next to each other at the show.
According to the insider, Neild is still trying to patch things up with his family before his marriage crumbles away, but he remains friends with the Gosselins.
"Steve's still not working for Kate again. It's over. But they're still friends," a source told RadarOnline.com.
"But for years Steve has been the only consistent man in the Gosselin children's lives, so they love him and like when he's around."
In March Neild and Gosselin were spotted at another concert with Mady and Cara — a Demi Lovato show in Virginia where eyewitnesses said the two were being lovey dovey.
No signs of affection reported at Tuesday night's One Direction show between the two.
What do you think about Steve and Kate — back on, or just friends? Sound off in the comments below…