Exclusive
Take That Kate! Wife Of Gosselin's Bodyguard Flaunts 'Perfect Family' As Rumors Swirl About His Relationship WithThe 'Kate Plus 8' Star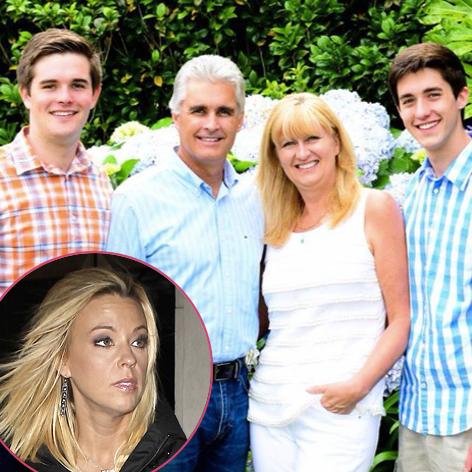 Kate Gosselin might be treating her bodyguard, Steve Neild, like her right-hand man, but he still has a wife and family back home in Maryland. And now, as rumors of Neild's relationship with Gosselin reach fever pitch, RadarOnline.com has learned that his wife is staking her claim!
Neild's wife Gina Downie Neild recently posted a glamour shot of herself with her husband and two sons to Facebook. Happily posing with their arms around each other and flanked by their children, the couple looked like a "perfect family," one friend commented.
Article continues below advertisement
In fact, RadarOnline.com has learned that the photo was taken during a happy family visit to the Neild's home country of New Zealand in January of this year.
Just a few weeks later, however, he would be getting close to another blonde -- Gosselin.
As RadarOnline.com has reported, the two were spotted holding hands at a March 2 Demi Lovato concert in Fairfax, Virginia -- a short drive from where Neild's wife lives!
"They are most definitely a couple and were NOT trying to hide it," an eyewitness told RadarOnline.com.