Exclusive
Kate Gosselin 'B*tched Out' Her Daughters At Demi Lovato Concert… While Holding Hands With Her Bodyguard!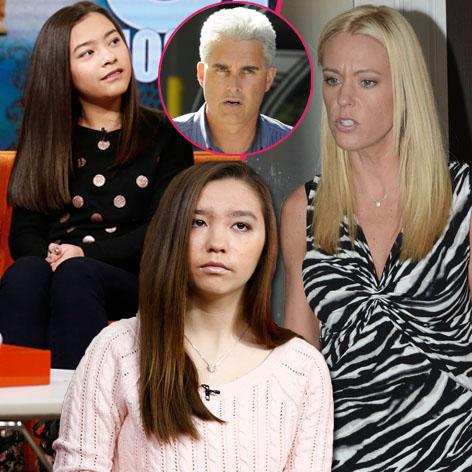 Kate Gosselin took twin teenage daughters Mady and Cara to the Demi Lovato concert on Sunday night, where she gave onlookers their own version of "Heart Attack."
An eyewitness has exclusively told RadarOnline.com it was an intense outing for the family — who was accompanied by their mom's bodyguard (and boyfriend?) Steve Neild.
According to a fellow concert-goer, mother-of-eight Kate got harsh with the girls while shopping for merchandise from the Fairfax, Va., show and made a small scene.
Article continues below advertisement
"We were at the Demi Lovato concert on Sunday night and had just entered the building and were browsing the merchandise table. I turned and saw a girl who looked familiar but turned away and didn't think much of it. Next thing you know we heard someone yelling, 'You both need to come back here now! Get over here and stay together! Where are you guys going?!'" the source told RadarOnline.com.
"I turned around and lo and behold, it was Kate Gosselin b*tching out the twins. The girls seemed embarrassed and their faces were pleading, 'Please don't know my mother.' They looked deflated. Myself and two friends were shocked and appalled."
The insider reveals that Kate, 38, and her crew came through the same door as everyone else — no special treatment — but she did have her long-time rumored boyfriend and bodyguard on her arm!
"The biggest surprise of all was who she was holding hands with. She was holding hands with Steve Neild, her 'bodyguard,'" the eyewitness told RadarOnline.com.
"They are most definitely a couple and were NOT trying to hide it. We were surprised considering we kept up with all the Jon & Kate Plus 8 drama."
Article continues below advertisement
The source tells RadarOnline.com that at one point they tried to take "selfies" so they could catch a photo of Kate and Steve in the background, but failed.
"Kate ducked behind us during the photos and yelled to the twins, 'Girls, bend down, you're going to ruin their photo!'" the source said.
"She seemed paranoid after we took the photo."
Oh, and about that no special treatment thing?
"We decided to go to our seats and as we turned around we saw the twins, Neil and Kate walk to the side and bypass the entire merchandise line to be served," the insider added.