Jealous Johnny Depp Halts Wedding Plans As Amber Heard Gets Closer To Another – Much Younger -- Actor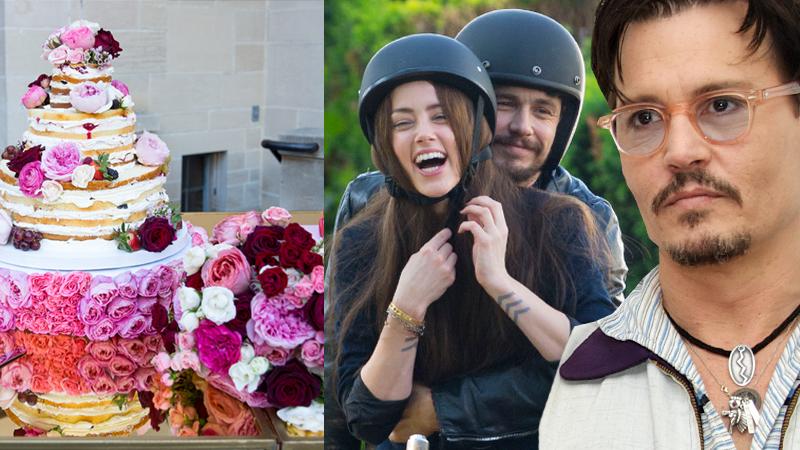 Johnny Depp is getting cold feet about walking down the aisle with fiancée Amber Heard, according to a new report, and James Franco has something to do with why he's getting the jitters.
Sources tell The National ENQUIRER that the 51-year-old movie star is worried his 28-year-old bride-to-be is going to leave him for a younger guy after seeing the blonde stunner getting quite cozy with co-star Franco on the set of their new film The Adderall Diaries.
Article continues below advertisement
"There's a real spark between Amber and James, and Johnny was jealous as hell when he saw pictures of them cuddling and giggling," said a longtime friend.
"Although Amber insisted they were getting in character, Johnny's not so sure, especially with James' reputation as a skirtchaser," the source continued.
In addition, The Pirates of the Caribbean star's kids have thrown a wrench into wedding plans, because they don't want the bisexual beauty as their stepmom, the source claims.
"Johnny wants his kids to be front and center when he and Amber tie the knot, but it seems they just can't warm to her," added the pal.
"Lily-Rose and Jack are very close to their mother (Vanessa Paradis) and they blame Amber for wrecking their family," the source claimed. "Vanessa has even told Johnny that Lily-Rose said she wouldn't feel comfortable as a bridesmaid."
Heard also wants to expand the family, and the prospect of becoming a dad again is weighing on the star.
Article continues below advertisement
"Amber also wants a baby, and Johnny keeps thinking about being 70 by the time their kid goes to college. Then Johnny sees Amber with guys her own age and wonders if he's doing the right thing," said the insider.
The seemingly happy couple were planning a fall wedding in Los Angeles, sources told The ENQUIRER: "But now he's suggesting they push the wedding back until the middle of next year, at the earliest," continued the friend. "Amber's not happy about having to wait to take the plunge – and it could spell doom for their relationship!"