Can You Say 'Creepy'? James Franco Posts Bedroom Selfies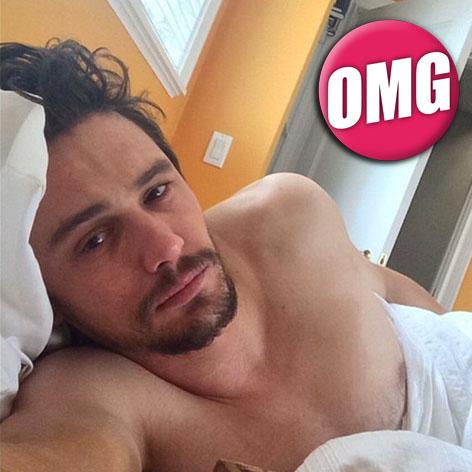 James Franco has posted two photos of himself, shirtless and in bed, and they're getting so much attention, they've caused his Instagram account to crash.
"GOOD MORNING - ARE YOU OUT THERE, baby?" the 127 Hours star wrote on Friday.
He followed that just minutes later, with another enticing pic, writing BREAKFAST IN BED MISSED YOU."
Franco then reposted the pics on Saturday, alerting anyone who may have missed them the day before with"POSTING BEDROOM SELFIES."
Article continues below advertisement
His smoldering, "come hither" look in both the pics, coming just days after he was caught out texting with a 17-year-old, have some people wondering just want Franco is thinking.
It also followed the outrageous selfie posted by Franco's best pal, Seth Rogen. As RadarOnline.com reported, Rogen posted a pic of himself nude and leaving nothing to the imagination.
Whether this is was motivated Franco, the actor isn't saying but one of his followers called his bedroom selfies "dumb" while another was more enticed, writing "Seduce Me."
Is this all a sly PR stunt for his latest movie or has Franco gone too far with his selfies? Tell us what you think in Comments.