Exclusive
Larry David's Jokes, Heartfelt Toasts & Traditional Clam Chowder: Inside Cheryl Hines & Robert F. Kennedy Jr.'s Down-To-Earth Cape Cod Wedding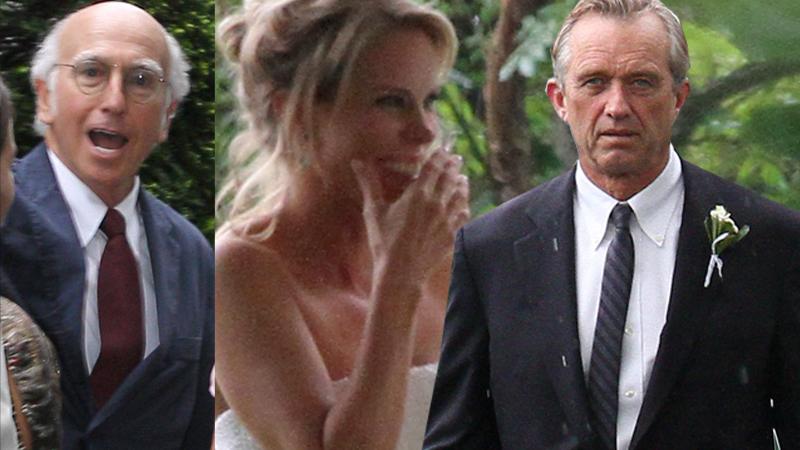 Article continues below advertisement
"Cheryl looked radiant, and guests loved her dress," the partygoer recalls of the Curb Your Enthusiasm actress, who was flanked by bridesmaids including the groom's 18-year-old daughter, Kyra. "It was really appropriate for the event and her age."
After the "short, sweet" vows, guests were ready to party— and of course toast the newlyweds.
"There were about seven speeches," the insider says, adding that Robert's cousin, Connecticut state senate candidate Ted Kennedy Jr., 52, served as "toast master."
The most touching speech came from Robert's son Conor, 20, who gave a glowing review of his new stepmom.
"He said it can be extremely intimidating for women to join the Kennedy family," the guest tells RadarOnline.com. "When a Kennedy dates someone new, it's almost a ritual for the woman to come down to Hyannis Port. She either 'sinks or swims,' he said— and Cheryl definitely swam. It was clear that Conor and the whole Kennedy family adores her."
Article continues below advertisement
At one point, Ted attempted to give the microphone to guest Larry David— Hines' onetime onscreen husband on her HBO hit series.
"Ted asked Larry to give a speech, but he declined in a humorous, lighthearted way," the partygoer continues. "It seemed like he did not want the attention on him, since it was Cheryl's big day."
"It was mentioned that Larry introduced the couple, and Bobby sought Larry's advice on if he should pursue a relationship with Cheryl. Larry gave him the green light!"
MORE ON:
Robert F. Kennedy Jr
Guests later dined on traditional New England clambake fare, including Cape Cod clam chowder.
As RadarOnline.com previously reported, the attendees danced to modern tunes including Beyonce's "Single Ladies" and the groom's favorite '60s classics.
"So many guests said what a great time they were having," the insider explains. "People were dancing and socializing. Everyone let loose."
Even matriarch Ethel Kennedy, 86, perched at the main table, seemed to enjoy the festivities.
Article continues below advertisement
"Ethel looked very happy," the source says. "Everyone was thrilled to see her, and she was a real hit with the guests."
The littlest guests all hung out together, and were elated when an ice cream truck arrived soon after the vows were exchanged.
"Cheryl's daughter Catherine seemed comfortable playing with her new cousins," the insider recalls.
Though The National ENQUIRER recently reported that the 60-year-old lawyer cheated on Hines with a stunning New York socialite, the reports didn't damped the mood.
"There were no issues at all," the source concludes. "Cheryl and Bobby must have been thrilled that despite the stormy weather, their wedding was perfect!"