Another Kennedy Cheater! Robert F. Kennedy Sleeping With THIS Socialite Behind Fiancée Cheryl Hines' Back, New Report Reveals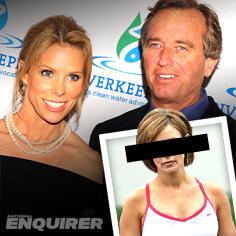 Cheryl Hines is ready to walk down the aisle with her famous fiancée, Robert F. Kennedy, in a Cape Cod, Mass., wedding this summer— but the Hollywood actress may want to change her plans.
According to The National ENQUIRER, Kennedy, 60, has been cheating on Hines, 48, with a 42-year-old divorcee he met at his Armonk, New York gym!
"He turned on the Kennedy charm to woo her into the sack. He's a no-good horn dog!" a source tells The ENQUIRER, adding that the attorney carried on the affair with the sexy mother of four for nearly two years.
Article continues below advertisement
Though Kennedy and Hines carried on a high-profile romance, the insider says the mistress had no idea her man was in a serious relationship.
"She's been terribly hurt by being led on by Bobby," the source explains. "She really liked him, and now realizes he's a cad for giving her false hope that they might have a future together. He'd even hinted that marriage was a possibility.
Kennedy and Hines began dating in 2012, months before RadarOnline.com exclusively reported that his estranged wife, Mary Richardson, tragically committed suicide in their Mount Kisco, New York home at just 52.
Should Cheryl call off the wedding? Sounds off in the comments.
To read more about Kennedy's steamy affair, pick up the new issue of The National ENQUIRER.