Exclusive
'Disturbing!' Chad Ochocinco Johnson Brags About Giving His Daughters 'A**-Whippings' After Assaulting His Ex-Wife Evelyn Lozada — Domestic Violence Activist Weighs In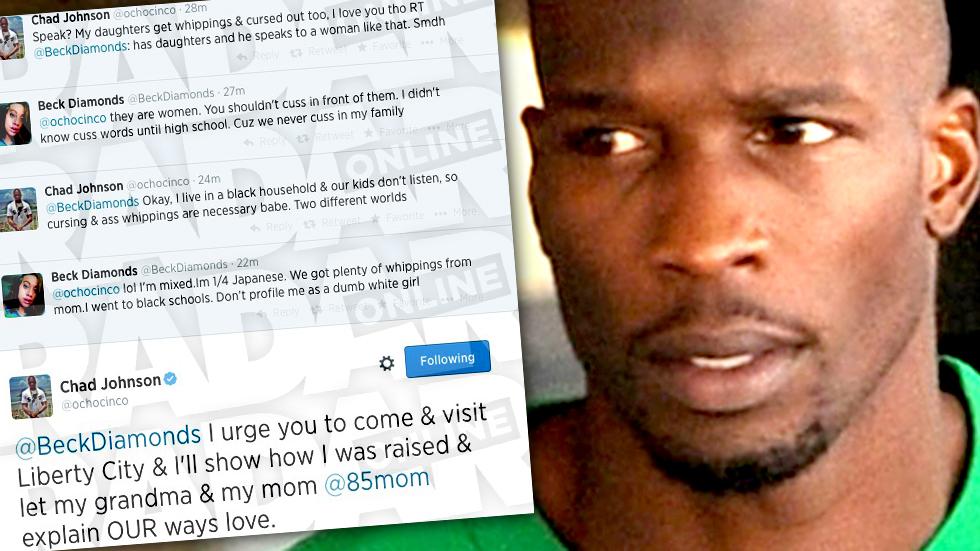 Article continues below advertisement
Ochocino, 36, bragged about "whipping" teen daughters Jicyra, born in 1998, Chi'el, born in 2005, and Chade, born in 2004. "My daughters get whippings & cursed out too," he tweeted Friday. "…I live in a black household & our kids don't listen, so cursing and a**whippings are necessary."
Fans were quick to call him out for mistreating the girls, and now, Debby Tucker of the National Center on Domestic and Sexual Violence tells RadarOnline.com the tweets should be cause for concern.
"Indeed it is disturbing," Tucker told RadarOnline.com. "But not unusual. I've heard people 'justify' their use of violence against children on the basis that the victims just don't listen."
"And then racism comes into this too," she continued, "because the offender knows tat there are many people who carry the racist belief that black children are more violent and unable to control their behavior as well as white, red or yellow sic, and perhaps he can avoid any consequences for the use of his violence if he deflects the attention onto the conduct of these unruly children."
Johnson's temper came under the spotlight back in August 2012, when his wife of less than a month, Basketball Wives star Lozada, 38, was admitted to a Florida emergency room with a three-inch gash on her forehead that she claimed Johnson gave her during an argument that turned physical. He later pled no contest, and a judge called what he allegedly did "horrific" during the sentencing.
Do you think Johnson was just kidding or did he cross the line? Let us know in the comments!