More Violence: Olympic Soccer Star Hope Solo Arrested For Allegedly Assaulting Sister, Nephew In Family Fight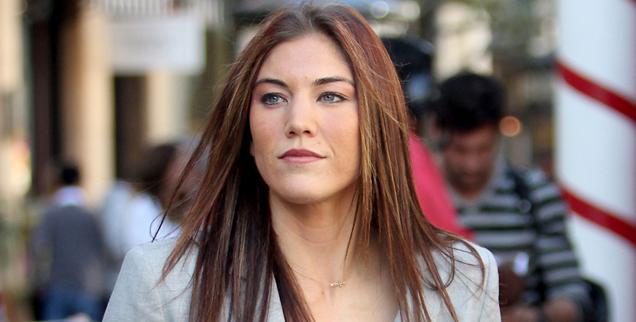 Looks like Hope Solo can't keep her aggression off the soccer field.
According to The Seattle Times, the Olympic gold-medal soccer player and Dancing With The Stars alum, 32, was arrested last night for domestic violence assault in a physical altercation with her sister and nephew.
Solo is being held without bail in a Seattle-area jail after the fight, which allegedly took place at the Kirkland, Wash., home she shares with her husband of nearly two years, former NFL player Jerramy Stevens, 34.
Article continues below advertisement
"There was a big party going on at her house. It was an out-of-control situation," Kirkland police Lt. Mike Murray told the paper, adding that authorities were called because of an assault and noise disturbance.
At some point during the party, Solo allegedly assaulted her sister and nephew, causing "visible injuries," Murray said.
This isn't Solo's first run-in with the police: In November 2012, the star's then-fiance Stevens was infamously arrested after reportedly assaulting her. Just hours later, they were married.
In her 2012 memoir Solo: A Memoir of Hope, Solo accused her former DWTS partner, Maksim Chmerkovskiy, of getting too physical with her while training for the 11th season of the ABC hit.
"One day, Maks was trying to put me in a certain position and hit my stomach so hard with his open palm that I had a red handprint there for the rest of the day," she wrote. Chmerkovskiy promptly tweeted about hating "hypocrites and liars."