Exclusive
DJ Casey Kasem's Widow Jean Flees To Norway With His Body: Daughter Claims Jean Is Trying To Escape Elder Abuse Charges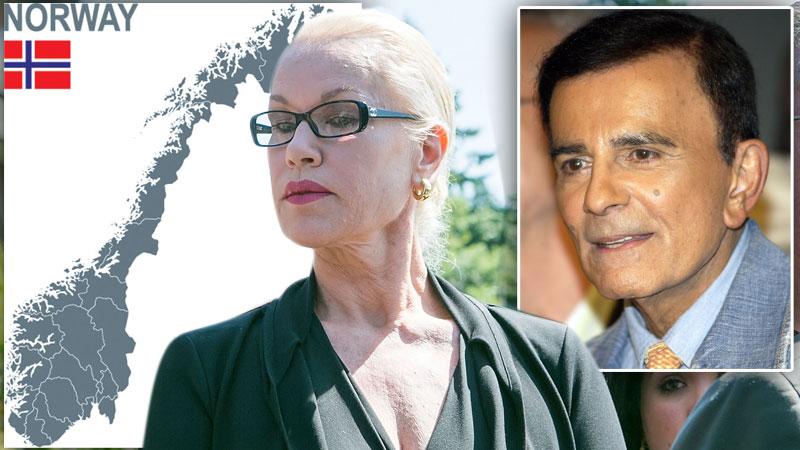 The late DJ Casey Kasem's widow, Jean Kasem, has fled to Norway with his body.
And now, Casey's furious daughter, Kerri Kasem, has claimed that Jean's plan to bury him in the Scandinavian country is a ruse to escape elder abuse charges in the U.S., The National ENQUIRER reports.
Speaking for Kerri, her publicist Danny Deraney told The ENQUIRER exclusively, "It's entirely possible that Jean wants to go to Norway because she thinks she'll be off the hook there."
Article continues below advertisement
As RadarOnline.com has reported previously, the family feud and strange saga of the radio icon's body has been going on for weeks.
Casey, 82, died June 15 in a Washington state hospital after his wife had removed him from a California nursing home. Although his daughter wanted him buried in Glendale, Calif.'s Forest Lawn Cemetery, Casey's body wound up at a funeral home in Montreal, Canada.
Jean, 60, reportedly later arranged to have his corpse transported to Norway, citing her Norwegian heritage as a reason for burying him in Oslo.
But as RadarOnline.com has reported, Kerri, other family members and close friends signed off on an open letter to the country of Norway pleading to keep Casey's body in California, where they believe he wanted to be buried.
In his final days, Jean allegedly removed a feeding tube from Casey in the California nursing home, which deeply concerned medical officials who spoke to a private investigator. According to the New York Daily News, the information was given to Santa Monica police.
Meanwhile, outraged Kerri, 36, told the ENQUIRER before Casey died, "I want this evil woman in jail for what she has done to this family!"
For more on the story, pick up the latest issue of The National ENQUIRER, on stands now.