Casey Kasem's Family Begs In Letter To Have Him Buried In California, After Widow Reveals Plans To Take His Body To Norway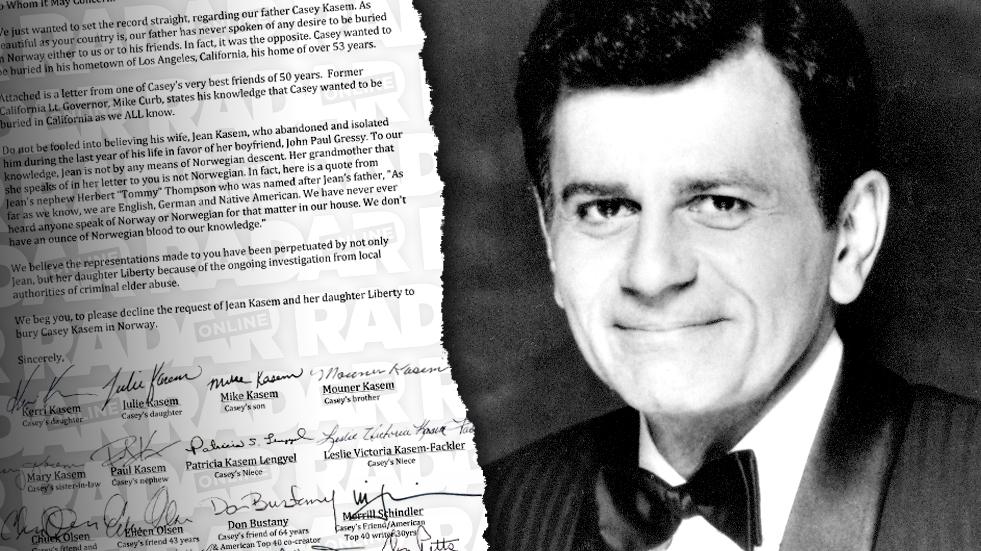 After Casey Kasem's widow revealed her plans to lay his body to rest in Norway, the famous disc jockey's family banded together signing a letter of petition in hopes they can keep him in Los Angeles, and RadarOnline.com has obtained the letters.
More than two months after Casey's death in June, his body has yet to buried and it's largely in part to a feud between his widow, Jean Kasem, and the rest of the star's family — spearheaded by daughter Kerri Kasem.
Article continues below advertisement
PHOTO: Casey Kasem's Family Signs Letter Begging To Keep His Body In California
On Tuesday, 20 family members and close friends signed off on an open letter to the country of Norway pleading to keep Casey's body in California, where they believe he wanted to be buried.
"We just wanted to set the record straight, regarding our father Casey Kasem. As beautiful as your country is, our father has never spoken of any desire to be buried in Norway either to us or to his friends," the letter states.
"In fact, it was the opposite. Casey wanted to be buried in his hometown of Los Angeles, California, his home for over 53 years."
The letter goes on to claim that Jean "abandoned and isolated" the former America's Top 40 host during the last year of his life and even allege she had a boyfriend at the time, John Paul Gressy.
"We believe the representations made to you have been perpetuated by not only Jean, but her daughter Liberty because of the ongoing investigation from local authorities of criminal elder abuse," the letter says after noting that Jean has NO Norwegian descent in her family.
Article continues below advertisement
"We beg you, to please decline the request of Jean Kasem and her daughter Liberty to bury Casey Kasem in Norway."
The heartbreaking letter was followed up with a letter from former Calif. Lt. Governor, Mike Curb, who was one of Casey's best friends of 50 years.
"I've been one of Casey Kasem's best friends for close to 50 years and Casey always wanted to be buried in California," Curb states.
"I've also offered to pay for his burial at Forest Lawn Memorial Park in California or at such other place as his family feels is appropriate."
Where do you believe Casey Kasem should be laid to rest? Sound off in the comments below…