Family Sets State Record For Capturing 15-Foot, 1,000-Pound-Plus Alligator In Alabama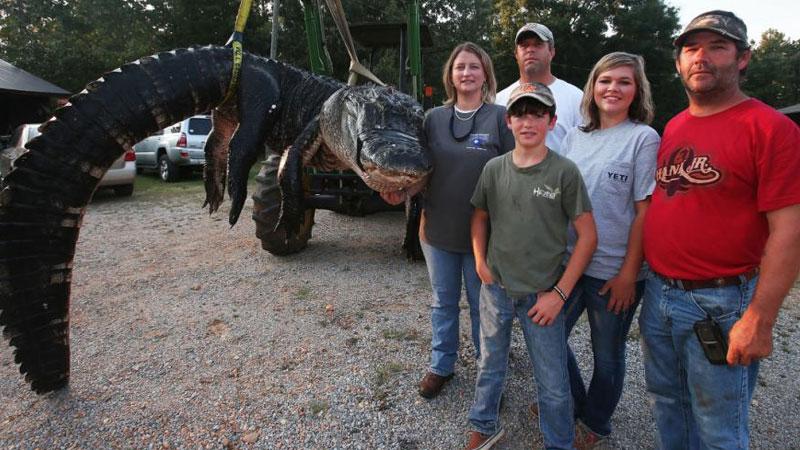 After five grueling hours, a family in Alabama has set the state record for hunting the largest alligator.
The Stokes family battled the 1,012-pound alligator at Roland Cooper State Park using several hooks and, ultimately, a fatal gunshot wound. The enormous beast measured 15-feet long.
Despite the gator getting caught by Mandy and John Stokes, brother-in-law Kevin Jenkins and his children, 16-year-old Savannah and 14-year-old Parker, the family credits their catch to something stronger.
Article continues below advertisement
"We give all the glory to God. Ten men couldn't have done what we did," John Stokes said.
And what the family had to do was a doozy. After getting the reptile with some hooks, Mandy Stokes went in for the kill – a shot to the "sweet spot" behind the eyes – but she ended up missing.
"All it did was make this gator mad," Mandy Stokes revealed. "Fear had taken hold at this point."
Eventually she got another shot and successfully killed the gator.
But the fight wasn't over once it was dead. Because of its massive size, there were a few obstacles in trying to weigh it (measuring its length was the easiest part).
The first attempt at trying to weigh the beast destroyed the winch assembly that's used to easily hoist most gators – but this monstrosity isn't like most. Biologists from the Wildlife and Freshwater Fisheries had to enlist the help of a park backhoe to lift the reptile, which allowed one of the biologists to successfully weigh it.